Adventure Goddess
Interview with Robyn Benincasa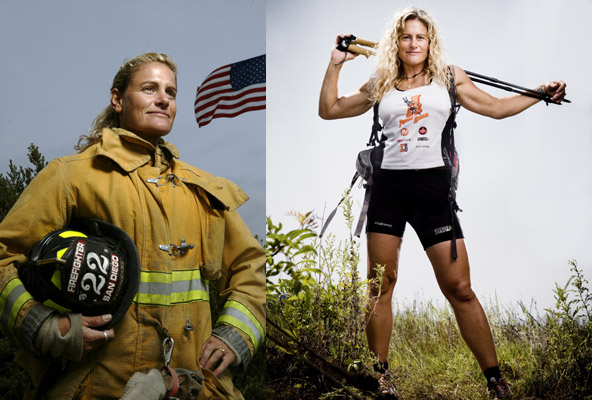 "They look like door knobs," jokes two-time world champion adventure racer Robyn Benincasa. She's referring to two surgically implanted Birmingham Hip Replacement devices that are now permanent residents of her body. Nearly two decades of triathlons, adventure racing, and ultra-running had exacted their wear-and-tear toll on her toned, athletic, and 40-year-old muscular body. Her hips took the brunt of this physical punishment. The deterioration in cartilage caused great pain since bone was rubbing against bone. Doctors diagnosed her condition as osteoarthritis. It's a crippling disease.
These BHR titanium gizmos are designed to get sufferers like her moving again. But Robyn is impatient. She was back on her feet within weeks of the first BHR. She craves athletic challenges, a competitive mindset that extends all the way back to her younger days when she was nationally ranked in judo, gymnastics, and platform diving. After the second BHR, however, she decided to become a solo marathon kayaker. This sit-down sport would give the hip joint plenty of time to rehab and recuperate. The only glitch to this dream was that she works full-time as a San Diego firefighter. But this presented a minor obstacle, actually. Though she owns three kayaks, Robyn primarily worked out on an indoor kayak machine at the fire station. For her first race, she chose the 2010 Yukon River Quest, a 460-mile "Race to the Midnight Sun" watery trek that goes from Whitehorse to Dawson, Canada. She won the women's division by a whopping eight hours.
RailRiders Adventure Clothing spoke with Robyn shortly after her victory. She's been competing in our apparel since 2000. She's a big fan of RailRiders. We are even a bigger fan of Robyn. She has a huge heart, wonderful sense of humor, and is that rare breed of superior athlete who also gives back to other athletes-with her time, inspirational support, and fundraising. She is the founder of Project Athena which supports female athletes who have had to come overcome serious injury or illness. Robyn calls herself Athena's "Minister of Dreams."
RailRiders: Your arms must be still aching. How was the Yukon River race?
Robyn Benincasa: I am not crazy about the dark, so that was a key reason I chose this race-it stayed light deep into the night. I hadn't seen a soul in 20 hours when I arrived in Dawson for the finish. Just me and the river. I got caught in a crazy downpour in the final 12 hours, in which I couldn't even see, with lightning everywhere, and the wind threatening to tip me over with every stroke. I didn't know if it was scarier to stop and freeze or to keep going. So I kept going. Then I was rewarded about 30 minutes later with the most gorgeous double rainbow I have ever seen over my shoulder when I looked back at the black clouds to see if they were following. One end of the rainbow was in the river, and the other end in the mountains. Wow. I had to float backwards and stare at it for a minute. So remote and beautiful. Most of the time I felt like this tiny little orange dot in a huge prehistoric landscape. That sense that this river (half-mile wide at this point) was here for millions of years and would be here for a million more when I'm gone. And then a bald eagle launched off the cliff and circled my boat, screeching a warning that I was too close to its nest. Or that it wanted me to surrender my Cheetos. Not sure. That was the highlight reel.
RR: How about all that paddling?
RB: For the rest of the 51 hours and 43 minutes I was out there on the Yukon, I just focused on moving as fast as I could, while managing drinking, eating, as well as all bodily pains and functions that needed addressing while crammed inside the tiny cockpit of an Epic 18 sea kayak. And listening to books and music on my iPod. And wondering what the heck I had been thinking entering such a long silly race in a boat I had rented the day before and on a course I had never seen. But I'm an adventure racer at heart, so making it up as you go is just par for the course.
RR: As a rookie solo marathoner kayaker, how did you feel about the other competitors? Were you nervous?
RB: As I made my way through the course, passing boats one by one, I realized why I felt the need to do this race. It turns out that I'm okay at paddling ridiculous distances after all. Even on training that mostly consisted of dry-land paddling on a KayakPro ERG inside the fire station the last few months. I was the first chick and the third solo boat overall, out of 25 to 28 entries. And I was ninth out of all the boats-about 80, including team boats. I couldn't believe it.
RR: How did your hips get so brittle?
RB: It was a case of genetic predisposition, wearing away cartilage (femoral acetabular impingement), and too many miles. Lots of women have the impingement; it's just that it doesn't really affect your life until you run enough miles.
RR: Why did you opt for the partial hip replacements rather than full ones?
RB: I opted for the BHR, or Birmingham Hip Resurfacing, rather than a total hip replacement (THR), since the BHR is better for younger people who still want to retain an active lifestyle. The main difference between the BHR and THR is that you still have a metal on metal hip, but with the BHR you retain the ball joint instead of having the ball cut off and a metal rod connecting your hip socket to the femur. Now in my X-rays it looks like I swallowed two doorknobs, and they've lodged in my hip sockets.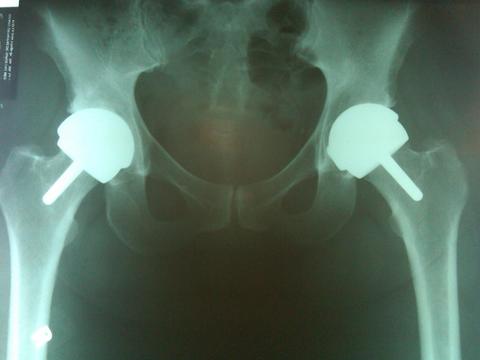 RR: Do you now set off alarms at airport security?
RB: Every single time.
RR: What was life after surgery like?
RB: I had the two surgeries two years apart, and was able to adventure race for one and a half years in between. I was back at work in four weeks each time, but that was pretty quick. And truth be told, it does take six to twelve months before you can run again if you're being smart about it. But heck, I was riding and paddling three weeks post-op each time, so at least I could get my fix! I'm still working on my recovery from the second BHR and have definitely backed off on the running this year so I could heal effectively. Which gave me the opportunity to train for my first major solo ultra paddling race. I guess part of the evolution for me has been to realize that there is a lot of fun things to do in the world, so why not do the coolest thing you can with what you've got? Again, that's part of the Project Athena message: It's not about getting back to what you were, cause you're evolving and changing all the time as 'life' happens; it's about embracing who you are and what you have now to the very best of your ability, and inspiring yourself (and others) with what you can do.
RR: What motivated you to create Project Athena?
RB: Discovering that I had end-stage osteoarthritis in both hips was a bit of a shock, to say the least, but it definitely made me think about all of those amazing survivors out there who keep swinging away for the fences every single day, regardless of their setbacks. I knew I had a long road ahead of me in terms of a comeback to adventure racing and ultra-running, but I also had the confidence that I could do it, especially with the help of my best pals, Louise Cooper, Melissa Cleary, and Florence Debout, all of whom are survivors of cancer, rheumatoid arthritis, etc. One day it all came together in my brain just before my first major surgery--how cool would it be to give other women the gift of being surrounded by coaches who truly understood what it feels like to experience the unfortunate 'chutes' of life and were willing to show them the way to climb back up those 'ladders' again through sports? A few phone calls were made and Project Athena was born. Every girl has an inner Athena that just needs some empathy and guidance to bring her back to life after medical or traumatic setbacks. We just show them the way to the light again. And who better to do it than someone who has been through the darkness herself and knows the way?
RR: Your fellow Project Athena Goddesses sport excellent athletic resumes. Care to comment?
RB: They've all truly inspired me. Melissa Cleary is my engineer on our three-girl fire crew, and we've been working side by side for the last six years. She contracted parvo on her paramedic rotation, which later became rheumatoid arthritis. In the beginning, she was bed-bound for three months, and had to be carried back and forth to the bathroom. Now she takes Enbrel once a week and can function, but she has a different joint in her body inflamed just about every other day. She promised herself that if she could ever run again, she would never stop. And she hasn't. She is a veteran of 48 marathons and three ultras. She is also one of the best people I've ever met. She is Project Athena's Angel of Hope, and our main liaison to our Athenaship Recipients.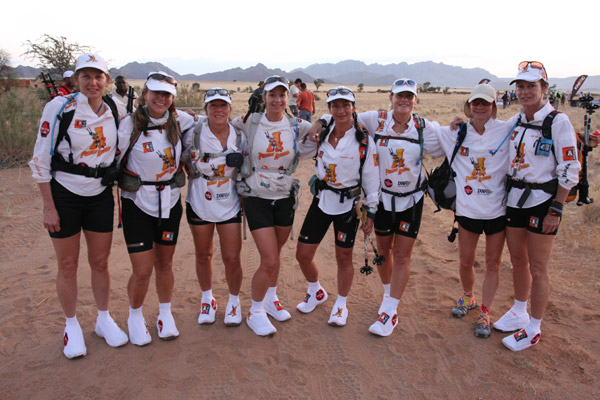 Robyn (third from right) with her Project Athena sisters at an ultra-run in
Namibia
.
Florence Debout is a two-time cancer survivor and a physical therapist. She is a veteran of 12 Ironman triathlons and several ultras. She even outright won a half-Ironman last year when she was one year clear. She is pure light, and an inspiration to everyone who knows her.
Louise Cooper is one of the most accomplished endurance athletes on the planet -seven Eco-Challenges, seven Ironman triathlons, second at the Badwater run in Death Valley and one of the very best people on the planet as well. She is a breast cancer survivor and has summited four of the world's highest seven peaks post-chemotherapy. She recently won the Antarctic Marathon. Together we not only coach a new group of Athenaship Recipients each quarter, we all race together as Team Project Athena to share with other survivors 'what's possible.' ( See earlier RailRiders interview with Louise.)
In the past two years, we competed in the team division at Racing the Planet Ultrarun (Vietnam), the Coastal Challenge (Costa Rica) and the Namib Desert Challenge (Namibia). Last summer, Florence and I won the Race Across the West 1,100-mile road bike race. It's not about winning for us as much these days as it is about the teamwork (but winning is pretty cool, admittedly). We love to be there for one another and be stronger together than we ever would be alone. That's really what Project Athena is all about.
RR: How did your hips survive the endurance bike race with Florence?
RB: Aside from realizing I was suddenly lactose intolerant and hurling my guts out all the way through Arizona, everything went awesome. The hips like riding. It's running that they dislike immensely for the first six to eight months post-op. It was weird leaving the start line in San Diego while thinking, "We're just going for a little ride to Albuquerque right now." What!? Makes you realize how important it is to eat an elephant one bite at a time. Or in this case, ride one hill, one stoplight, one section of road at a time versus freaking yourself out with the thought that you're going to ride across California, Arizona, Colorado, and New Mexico before you see a shower or a bed again. The two-time Cancer Survivor and Bionic Woman tore up the course! But man, neither of us wanted to sit on a bike seat again for a long time.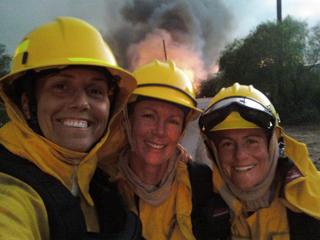 RR: What is it like to be a firefighter, and on an all-women crew?
RB: We recently added a guy, so I'm on a three chick crew now rather four chicks, but it's still very cool. The three of us have been together for six years now. It's a blessing to work with your best pals every day. The majority of our calls are medical aids, rescues, and traffic accidents; but we certainly do get our share of house and brush fires. My scariest fire was the San Diego Witch Fire, during which over 200 homes burned in 2007. There were several times when we were completely surrounded as the wind-driven fire randomly claimed homes all around us. Fire can be pretty unpredictable, but in general, we have all kinds of safety mechanisms and rules in place so nobody gets hurt. The hardest part of the job for me is feeling people's pain when they're really hurt. Both physical and emotional. The fires are the easy part.
RR: How does one deal with a traumatized homeowner whose house just went up in flames? What can you say to soften the trauma?
RB: Most people are actually relatively okay at the time; it's later on that the loss sinks in. When we're there, we just try to reassure them that 'things' are replaceable, their family and animals are okay, and then the Red Cross comes out and helps them with all the details of where to stay and how to file a claim. I do feel for them, though. On a three-girls crew, there's a lot of empathy to go around.
RR: Describe a typical day at the fire station.
RB: Workout, morning meeting, morning chores, go run/workout with the crew, food shop, cook, eat, training drills (medical, fire continuing educational stuff), workout, cook, eat, clean, sleep. Oh yeah, and run a bunch of medical aid/fire/accident calls in between.
RR: What is it like to haul around those heavy fire hoses?
RB: Hose handling is definitely an art, and very dependent upon one's crew. If each crew member is on the case and managing the hose line around corners, it's not too bad. But man, there's often a lot of heavy breathing involved.
RR: What do you think of RailRiders?
RB: I've been wearing the RailRiders Eco-Mesh shirt in races for 11 years! Swear. Well, not the same exact shirt, cause that would be gross, but it is, hands down, the best adventure shirt out there.
RR: But what exactly do you like about the shirt?
RB: I like how simple it is. Lightweight and protective for your skin and never clingy or heavy. An all-around perfect shirt for adventure. And it hardly ever gets smelly.
RR: Can you provide a brief list of countries and race conditions that the Eco-Mesh shirt experienced?
RB: Pretty much you name a place or type of terrain, and the shirt has been there. Mountains, deserts, sand dunes, rivers, oceans, jungles. It experienced Borneo, Utah, Argentina, Chile, Australia, New Zealand, Namibia, Fiji, Death Valley, Canada, Mexico, and Brazil, just to name a few. Plenty more on that list!
RR: You are always seem to be in a chipper, upbeat mood, but have there ever been scary bad or yucky situations in an adventure race or setting, when that kind of sunny optimism was put to the ultimate test?
RB: Yeah, lots of times. I get especially mad when I feel like a race director isn't taking the racers' safety into consideration. I've been very visibly unhappy when the race director from Ecomotion Brazil had us whitewater rafting in class-3 rapids at flood stage in the middle of the night, or when the race director from Primal Quest had us whitewater swimming class-4 rapids at flood stage in glacier runoff in Montana after the police had shut down all of the rafting companies on the river for safety reasons. I cursed a lot that day. Or when the race director at the World Adventure Racing Championships in Switzerland had us whitewater swimming in a shallow icy river for four hours. Many people couldn't make it through the hypothermia and had to quit, and one racer is still damaged from that race. It's not fun or cool or exciting to be racing when you're forced into extremely dangerous situations over which you have no choice, and you have to choose between possibly dying and quitting the race. I know that the dangerous stuff looks great on camera, but if someone dies or gets seriously injured, was it worth it?
Like all racers, I have a sense of adventure, not a death wish. Sometimes it's a fine line. Other than that, I'm generally pretty positive and happy to be with my team figuring out the best strategies and the most effective ways to deal with adversity together. Adventure racing is great training for life; it breeds and attracts the coolest people.
RR: What is your athletic wish list for the next year or so?
RB: So many wishes, so little time. I want to do one big race with Team Project Athena, either an ultra-run/ultra-ride or adventure race. I'm definitely digging the ultra-marathon paddling scene, so I'd like to do the Missouri River 340, Texas Water Safari, or Yukon River Quest again (maybe try for the record there) and attempt the Guinness 24-hour paddling record. I would love to do one big adventure race with my old teammate Neil Jones and Team Merrell/Akali. Something truly wild and remote, with no trails and difficult navigation, just like the old days. Maybe a 500-mile solo bike race in Utah called the Hoo Doo 500. I'm sure I'll just find new and silly things to do with my friends as long as I can still open the door and get outside to play.