A Fool for Love Hikes the Pacific Crest Trail.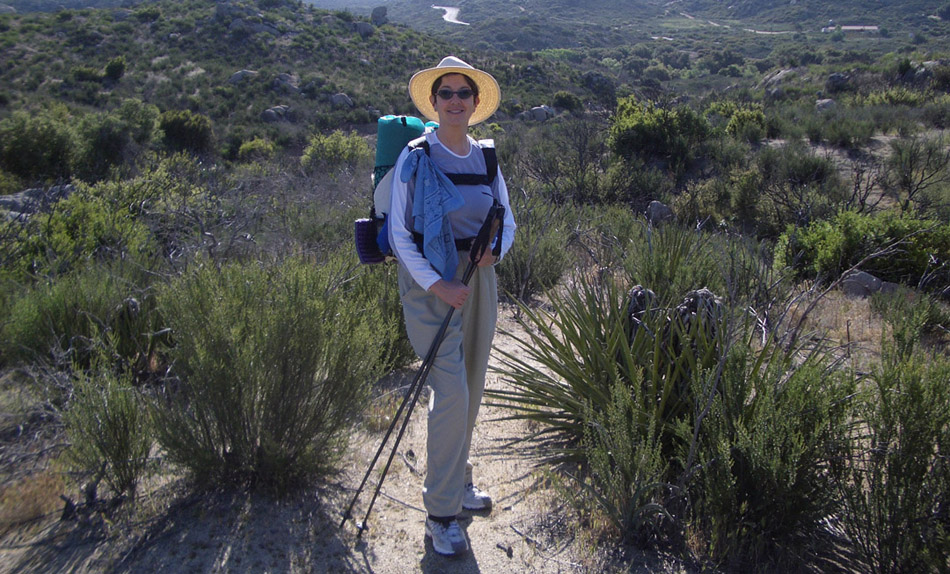 Hiking the Pacific Crest Trail: Interview with Gail Storey
Give Gail Storey a lot of credit for undertaking a tough physical challenge—thru-hiking the Pacific Crest Trail with husband Porter. This was at a time in her life, when the accomplished writer and author could have instead stayed at home, happily reading AARP's monthly magazine on health and anti-aging fitness tips. She wasn't a hiker; her husband was. Gail "only" hiked a third of the entire trail; severe weight loss and physical exhaustion had made it too risky for her to continue. Her experience on the trail are wonderfully described in her memoir, I Promise Not to Suffer: A Fool for Love Hikes the Pacific Crest Trail, winner of the National Outdoor Book Award and the Barbara Savage Award (Mountaineers Books), as well as finalist for the Foreword Book of the Year Awards, the Colorado Book Awards, and the Colorado Authors' League Awards. Gail's website is gailstorey.com.
RailRiders: At the outset of your book, you wrote that nearly 1,000 people will attempt to thru-hike the Pacific Crest Trail, starting on the U.S. and Mexican border and ending at the Canadian border, and yet less than one-half will finish. And most hikers are young, strapping guys in their 20s. How old are you, and what made you think you could go the distance?
Gail Storey: I was 56 when I hiked the Pacific Crest Trail, and Porter was 52. I had no clue whether I could go the distance, but decided to just get out there and see. Porter is an experienced outdoorsman and hiker, and he so wanted me to share the wilderness with him. I loved him too much to stay home without him.
RR: Several years earlier, you went only 40 miles on the Appalachian Trail before you quit. What made you think you could thru-hike the Pacific Crest Trail?
GS: I had no idea whether I'd be able to thru-hike the PCT, but I was determined to try. One of the main reasons I left the AT after only 40 miles was that we had bicycled there, to Maine from Houston on our tandem. After seven weeks of cycling every day, I was wiped and had no time to train for hiking, not to mention we had just a one-day turnaround.
RR: How many miles did you average per day on the PCT?
GS: We averaged twenty miles a day. Some days we'd have to hike more than twenty-three miles to get to water. In the High Sierra, where kicking steps up icy mountainsides made for slow going, we averaged about 14 miles a day.
RR: What did you and Porter do during your non-hiking or rest days?
GS: What rest days? We usually got into a resupply town in the afternoon, were consumed by chores such as picking up our resupply box, shopping and repacking, doing laundry and repairing gear, and calling home to let our families know we were okay. We had dinner with other thru-hikers, then hit the trail the next morning after breakfast. We loved getting back to the trail.
RR: The logistics of planning for a trip of this magnitude seem staggering. What were some of the challenges you encountered, and how did you attempt to solve them?
GS: It took us more than a year to plan for our PCT hike. We sold our house and my car, moved to a loft in downtown Houston, and made it a staging area for our resupply boxes and gear bins. The biggest challenge was paring down our gear so we could hike and camp ultralight. Porter made or adapted a lot of our gear to be on the ultra end of ultralight. Porter's pack, fully loaded except for food and water, weighed only twelve pounds, and mine weighed only eleven pounds. Since we're older, we wanted to hike ultralight to cover the miles.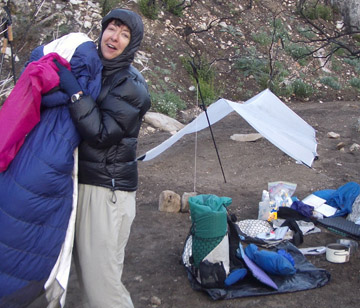 RR: What was the most difficult aspect of the hike in terms of physical effort?
GS: Hiking up and down mountains for twenty-plus miles a day was exhausting, compounded by injuries: Porter's broken metatarsal, and my torn anterior deltoid plus nocturnal leg twitching that made it hard to sleep. We faced unexpected challenges, from my near-drowning in rapids, to hiking straight up icy mountainsides when the trail was hidden under snow.
RR: How does one keep the emotions in check on a multi-day, long-distance hike? One imagines that there are as many emotional highs and lows as the terrain you covered.
GS: It's impossible to keep emotions in check. What we did was develop an entirely new relationship to what we were feeling. We found our mindfulness meditation practice helpful. Still, I cried from sheer exhaustion, and Porter grew silent. Our marriage is now far deeper for having helped each other through the emotional terrain. We laughed a lot too!
RR: Then, one can find or reclaim true love on a long-distance hike. Or do the daily mental, emotional, and physical challenges exact their cumulative toll?
GS: The trail is all about love--love for nature and its beings. The physical, emotional, and mental challenges peeled back layers of the self, and made us more open to each other. We had our difficulties, but we learned to forgive ourselves and each other, and to let go of what doesn't really matter. Our love deepened immeasurably.
RR: Is there anything you would have done differently so you weren't forced to quit after 900 miles?
GS: I would have trained more, if I'd had the time and opportunity. I feel that it worked out perfectly for me to come off at 900 miles, support the remainder of Porter's hike, and go out to meet him on the trail from time to time. I'm a great lover of "what is."
RR: Who were some of the more colorful characters you came across while hiking, and what were some of their backgrounds?
GS: Everyone on the trail is a colorful character, otherwise they probably wouldn't be out there. We really bonded with another couple, Starts Slow and Tapers Off (Tom and Sheila Pearson), from Santa Rosa, CA. Tom was a retired engineer, and Sheila was a bookkeeper who loved video games. You can get a sense of some of the other thru-hikers from their trail names: Wildflower and Packman, German Tourist, Buck-30, Weather-Carrot, Mystic, Jason and Snake Charmer, Side-Track, Beer-Snob, and Dog-Hiker.
RR: What was your trail nickname?
GS: Our trail nickname was "Porter-and-Gail," because we were always together.
RR: Napolean once famously said "an army marches on its belly." So what did you and Porter subsist on for your daily grub?
GS: Porter is a culinary genius in the wilderness. He knew we'd need up to 7,000 calories a day each, and as a physician, wanted our food to be highly nutritious and appealing. We carefully planned our breakfasts, lunches, snacks, and dinners to be an optimum combination of carbs, fats, and proteins. Porter did all the cooking, and even baked in the High Sierra where we used powders that would fit in our bear canister. I include a six-page Appendix at the back of I Promise Not to Suffer to explain the extraordinary variety of what we ate, and how we shopped, packed, cooked, and baked it.
RR: We all know the famous mountain-climbing quote by George Mallory: "Because, it's there." Does the same drive or desire apply to thru-hiking, since unlike a mountain where you go up and then down (hopefully), you are walking from "here to there."
GS: It might be more accurate to say, "I thru-hike, therefore I am," parodying Descartes.
RR: Any advice for someone wanting to hike the PCT? Especially for women?
GS: Preparation is crucial, in terms of training, gear, and planning food and resupply stops. Absolutely support and use the Pacific Crest Trail Association and their website at pcta.org as an invaluable resource on all things PCT. Women have a natural affinity for the Earth, so I would encourage other women to hike in the wilderness.
RR: How did the RailRiders clothing perform?
GS: We loved our RailRiders clothing so much we wore it throughout our hike. Porter burned big holes in his RailRiders pants not once, but twice, lighting our alcohol stove. He patched them together, and he still cherishes them. On our next big hike, we'll wear even more RailRiders clothing because of its durability and functional features. I'll wear pants more true to size, rather than the "roomy" ones I wore on the PCT, since RailRiders fit not just for style but for movement. I also plan to wear a RailRiders shirt. Long pants and long-sleeved shirts, which RailRiders has in multi-featured styles, are vital for protection against sun, bugs, and brambles.
RR: What are you and Porter up to now? Any more adventures you are planning in the great outdoors?
GS: We moved to Boulder after hiking the PCT, and hiking and cycling are now organic parts of our lives. We plan to do the entire Continental Divide Trail in some combination of hiking, mountain biking, and support. Porter is my Full-Service Author Escort when I travel to events for I Promise Not to Suffer, so I look forward to being his Full-Service Trail Angel while he hikes the Weminuche Wilderness this summer.