Tough Threads
TOUGH THREADS!
The true life-in-wilds stories behind RailRiders apparel. Years of abuse. Years of pleasure. If you have your own Tough Threads story, we'd love to hear from you. Contact us at info@railriders.com
***
A World Class Shirt
The story of my oasis shirt started in a rather unusual way. It arrived tucked inside of Chase Lewine's backpack, jammed full of various camping gear, backcountry supplies, hiking boots and of course, hot chocolate I had been craving from the US. Chase had come to visit me where I was living in Santiago de Chile and we were planning to backpack through South America for over two and a half months together. I was so excited to have my very first set of RailRiders gear and the Women's Oasis Shirt quickly became a key gear item I would not travel without.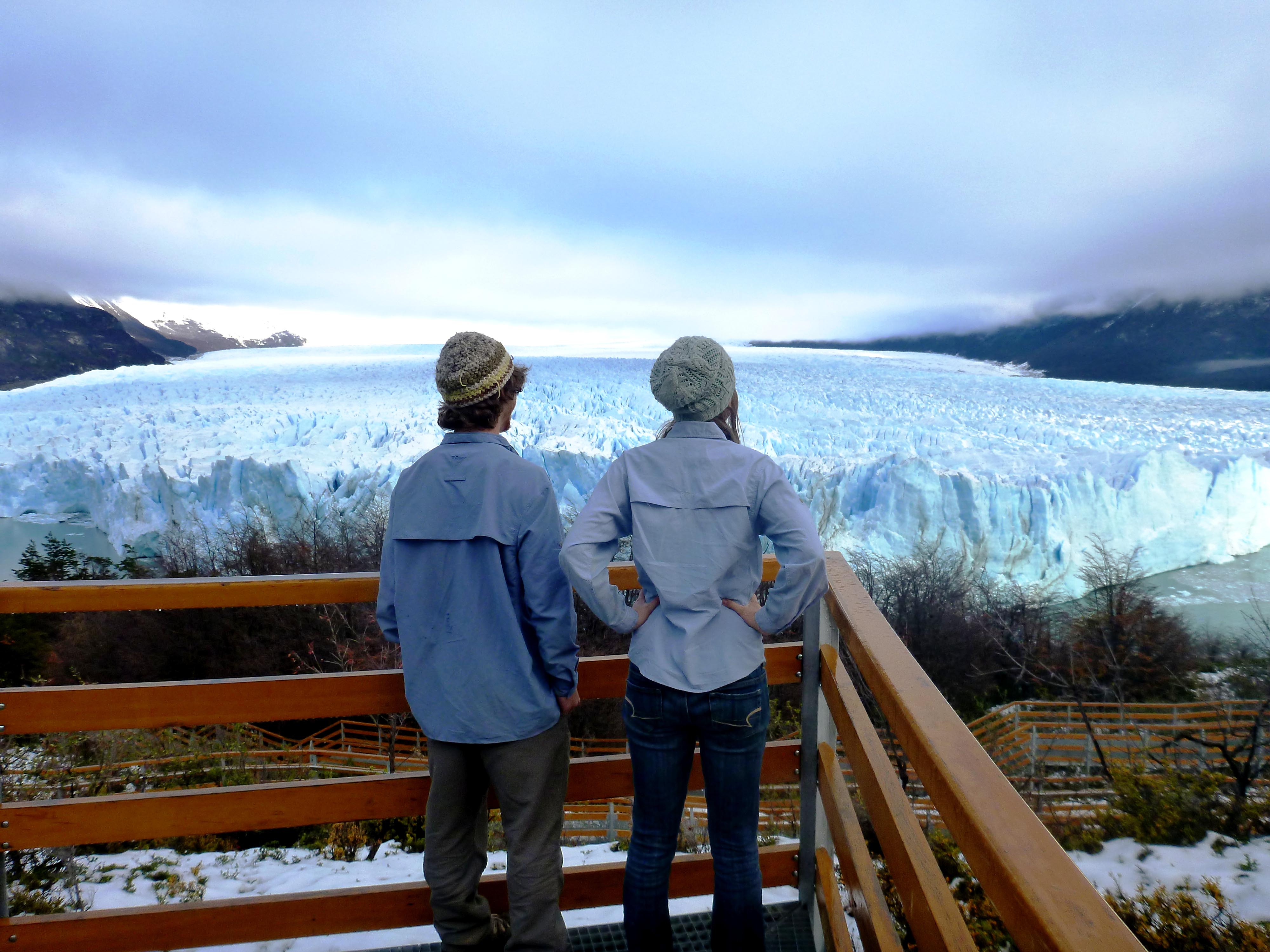 Tucked in my own backpack, this pale blue, well-worn shirt has been to 9 countries, it has borne the burned off sweat and sun from countless backcountry trails throughout the American Southwest and has earned its place as one of my favorite travel companions. In Patagonia, it kept me dry while trudging through waist deep snow in the pursuit of Argentina's Fitz Roy peak, it blocked the Antarctic wind on a cruise off the southernmost point of South America and it was comfortable enough to wear on day trips to check out gorgeous Argentinian scenery like the Perito Moreno glacier.
In the backcountry, this is my go-to shirt. It dries quickly and has phenomenal ventilation, blocks the scorching desert sun, repels bugs, and somehow it still doesn't smell like the hundreds of long sweaty hours I have spent backpacking in it. I couldn't think of a better shirt that would stand up to what canyon country romping puts my Oasis shirt through. From swimming through shady canyon pools in Zion's Subway to trip after trip to the Colorado River in Grand Canyon NP to squeezing through the tight Escalante Canyons, this shirt has been through it all and has never let me down.
Life Changes
For all of my life I have been morbidly obese. I never let that slow me down one bit, though, and at the ripe old age of 29 the young man in uniform here was already Chief of Police and 540 pounds.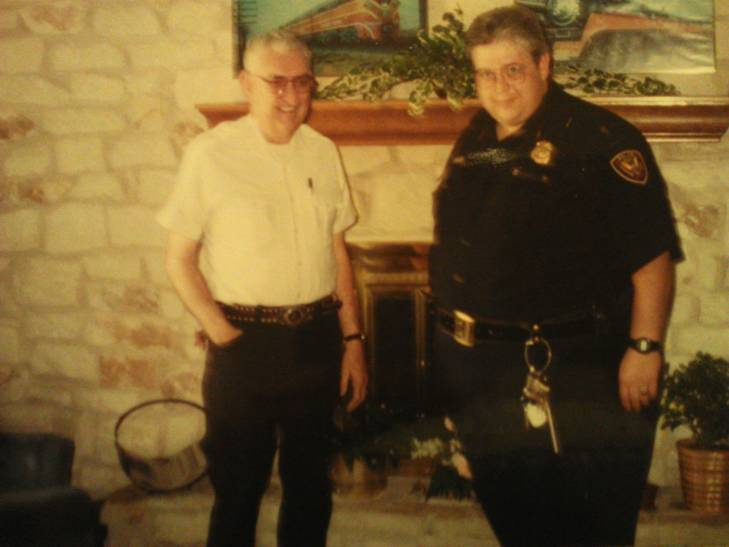 I was always jealous of other officers that came to work in RailRiders because they were cut so well and looked so good. At age 49 I decided to change my life and since I have lost 290 pounds. One of my biggest motivations during my two year journey was to be able to fit in that first pair of RailRiders. I will never forget, as a 51 year old man, as running around the house dancing like I had just won the Powerball jackpot!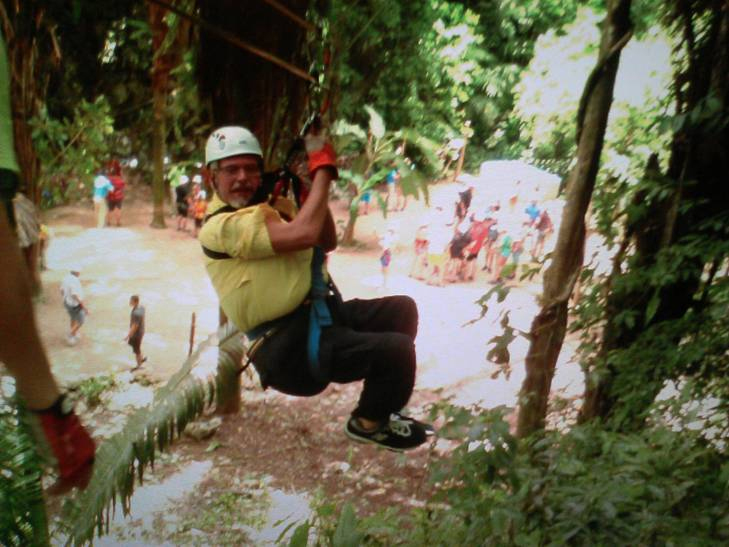 Now, RailRiders is almost all I wear. I love the Xtreme Adventure Pants, the Eco Mesh with Insect Shield and, my favorite, your VersaTac Ultra-Light pants. They are everything you say and more. They served me well zip lining in Belize and hunting at our ranch in South Texas. Love your stuff!
--Gregory Meade
The Bench of Despair
The "Last Annual Vol State Road Race" was a perfect challenge for our RailRiders. It has been run in a few different incarnations since the 1980's. The present course begins in Missouri, on the west bank of the Mississippi River, and after riding a ferry across to Hickman, KY, runners have 10 days to follow a fixed course across Kentucky, Tennessee, and Alabama - to the finish on a private ranch in northwestern Georgia. About 300 of the total 314 miles are in Tennessee, hence the 'Vol State' in the name of the race. It's run in the middle of July, to take 'advantage' of the hottest, most humid weather the southeast can dish up.
Runners enter in one of two divisions: 'crewed,' meaning the runner has a support vehicle and crew and is allowed to leave the course in the vehicle temporarily enroute to reach places like restaurants and hotels; and 'screwed' (officially 'unsupported') meaning no crew, no aid from anyone associated with the race, and all travel on or off-course on foot. You find food, drink and shelter along the way as you can, and you may accept aid offered by 'road angels.'
It had been a dream of mine for about three years to run the race, and my daughter decided she wanted to do it as well – as a 'fun' thing to do between undergrad and veterinary school. We entered in the 'screwed' division. The only thing that wasn't screwed was our clothing. We had ourRailRiders Eco-Mesh shirts and my personal favorites, the Rampage Shorts.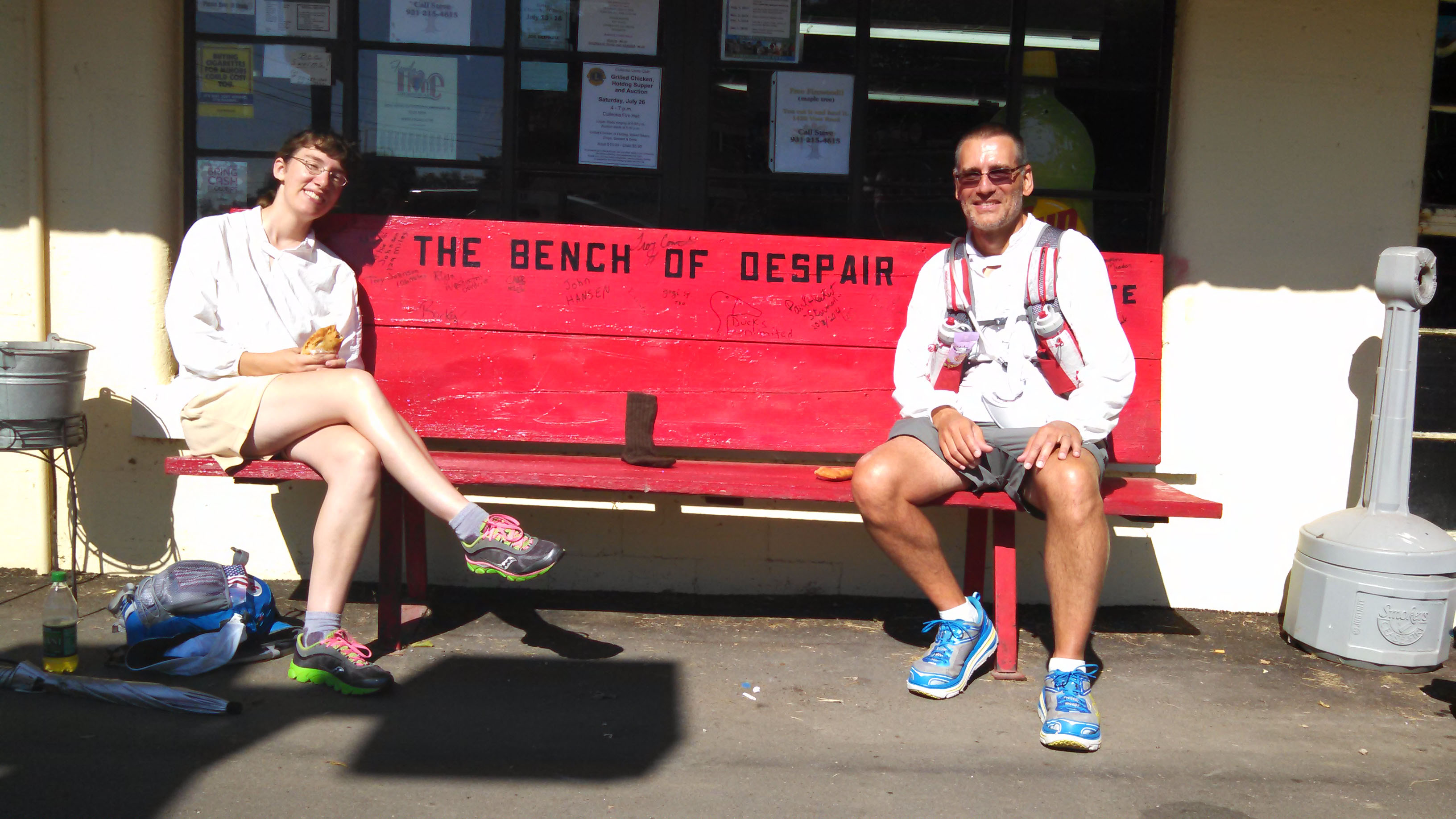 The Bench...
There is a tremendous amount of lore associated with the race, and "The Bench of Despair" is perhaps the best-known landmark along the course. It's located in front of a little country market at mile 183. At first it was just a bench out front painted red. It's at a crucial point in the race though. After nearly 200 miles the race has lost its 'romance' so to speak, and the life of the runner has become dominated by pain. The end of the tunnel, if it can be seen at all or even imagined, is but the tiniest dot of light – still well over 100 miles away. Many runners have dropped from the race at that spot, and the 'Vol staters' began referring to the bench as "The Bench of Despair."
Somehow the owners of the market picked up on it and completely embraced it. They stenciled the bench, and they cater to the runners as they come through each year. If the market is closed (middle of the night or whatever) runners will still find a cooler full of bottled water out front to help them through.
Most runners who find the will to continue past The Bench of Despair finish the race. My daughter and I were coming off a low point when we reached it, but having just taken twelve hours rest at a hotel at mile 179, we really experienced the bench in the light of a new day and with a renewed positive outlook. For us it was "The Bench of Hope." Never having believed we would reach it, we realized we were capable of more than we knew. The fried pies were insanely good!
--Patrick McHenry (A full account of the Vol State Road race can be found on Patrick's Blog)
The Journey From the End of the World
One local told us "you must be caveman to enter". Other locals told us we were crazy. We were backpacking through some of the most famous sections of Patagonia, however, we were doing it in the middle of winter. Too most, this is absolutely bizarre.
Sure some days were quite miserable. Frozen boots in the morning, no sunlight until 10:30am and white out conditions when we were trying to view the famous fingers in Torres del Paine. Though some days were sunny and clear, and having the entire park to ourselves (who else would be crazy enough to backpack in winter) made the experiences that much more rewarding.
When temperatures did drop well below freezing and the trail called for knee deep powder kicking days, I was very comforted that I had my X-treme Adventure pants with me. These pants insulated very well, not letting any precious warmth out. Also, no moisture from the wet snow ever soaked in. We backpacked over forty miles through the winter landscape Patagonia had to offer. The X-treme adventure pants made it to Ushuaia, the end of the world and continued south on a boat towards Antarctica.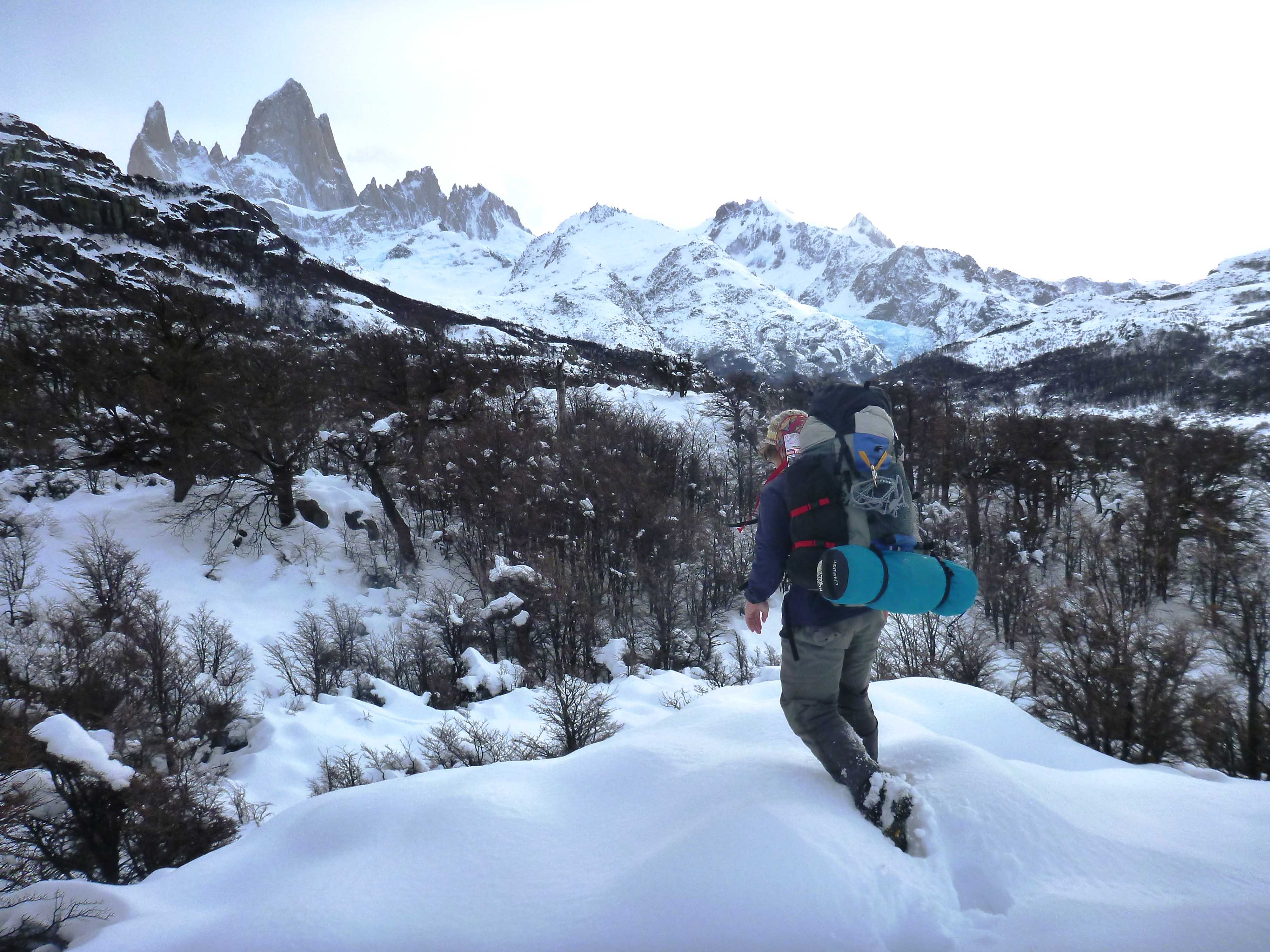 The pants went to the muddy banks of the Atlantic along Rio de Gallegos, to the sunny Pacific Ocean in La Serena, Chile. Along the way they climbed Villarrica, a towering peak in the Andes. As we glissaded down the steep icy snow banks, the pants proved well able to take abuse.
Traveling north we arrived to the driest place on earth, the Atacama Desert, where only the toughest species can survive the harsh and unforgiving climate. Traveling on horseback we rode over sand dunes, through narrow canyons and across rivers. Fine sand and grit got thrown into the pants as they constantly rubbed against the horses back galloping deep into the Atacama.
The final segment of the journey would arguably put the pants through the toughest of environments, the Amazon Rainforest. We followed a local who swished his machete through the thicket while he constantly smoked a cigarette with his free hand. The most bizarre plants and trees clung on to my clothes, but the Xtreme Adventure Pants did not tear nor shred. Sliding down slick muddy paths, pushing through thick snags and exotic flora, the pants did exactly what I wanted- kept me dry and protected my legs.
Two months of constant abuse through some of the toughest environments with a remarkable distance of travel achieved. From winter to desert to jungle, the pants held up. Not a single tear, snag or rip. Without doubt, the Toughest Clothes on the Planet are made for some serious abuse while not hindering great comfort.
--Chase Lewine
Going Gobi
I imagined the scene of the Gobi Desert was akin to athletic pornography for hard-core long distance walkers. There are the apparent soaring high Altai Mountains and abysmal horizontal rock-strewn plains, of course. The Gobi is an unpretentious mother to her people, but the Gobi is, for the most part, unclothed. It is also a place where a landscape has made me laugh out loud and weep uncontrollably like an child.
I had ample time to mull over my plan and when I decided to take on an extended desert saunter; I wanted kit that could make the journey. More over I required clothing that could endure the ruggedness of the Gobi. Embedded with sweat, blood, urine, camel vomit and minute grime by the end of week 1, the RailRiders Versatac Mid Pants went on and on and on and still hung to my emaciated waistline, pelvis protruding, at mile 1000.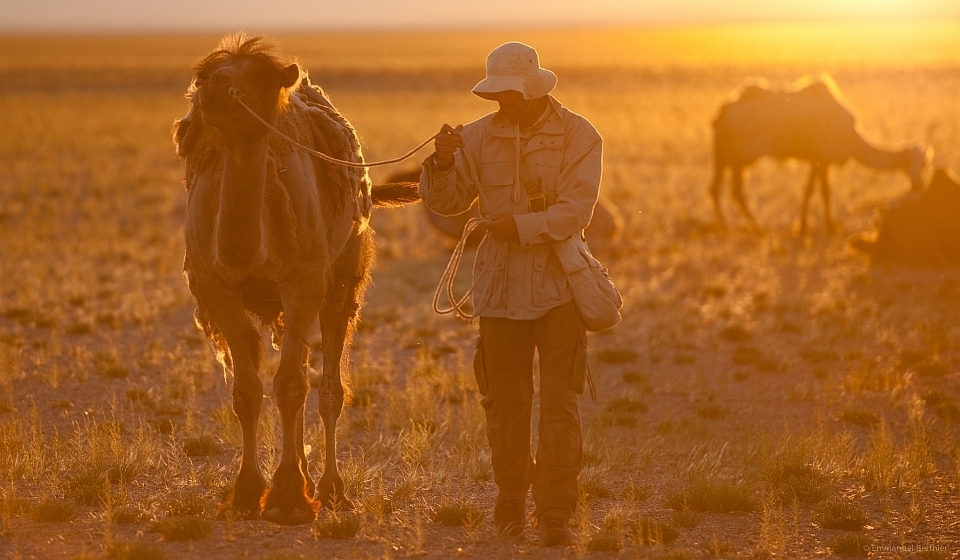 In May 2011, I set off on an ruthless adventure – to walk across the Gobi Desert leading 12 bactrian camels in the company of a small international team. The plan was to cover 1000 miles in less than two months crossing the Altai Mountain Range and the Gobi Desert. An impressive quest. Covering a typical distance of 32 kilometers a day, we walked in scorching heat, sand storms and thunderous downpours. It was no picnic. To pass the time as I walked, I chatted to myself, recollected my younger days, thought of home, my wife and children. I almost slept as I walked. For the most part, I walked bewildered at a landscape and its unbelievable splendor.
I had attempted a walk across Mongolia the year before. It seemed like a good plan at the time: to walk, or man-haul my entire supplies, from East to West and keep the sun on my left but how I was punished. I vowed never to come again. I would run into problems I had anticipated but not appreciated. I was young to man-hauling and every footstep was a first. I gained new knowledge but encountered never-ending issues but never with the clothing I wearing. Every morning, with tender feet and joints, I would clamber into encrusted Versatac pants that were stiff like cardboard. In the evenings I would strip off my clothing, saturated in pungent odors and dust to air and I would drift off to sleep in a festering tent rank with body stench.
It never occurred to me to examine my clothing. It held up, did the job, done exactly what it said on the packet. They were the toughest clothes on the planet. Who was I to question that statement? They must have been tested or was I the guinea pig? It mattered not. Not one stitch loosened or one button lost. On reflection they outlasted my robust hiking boots.
--Ripley Davenport
"Pants on Fire"
Alcohol flames are invisible, so it was hard to tell whether they were burning or not. The first night of our thru-hike of the Pacific Crest Trail, flames leapt up and set my husband, Porter, on fire. I screamed. He rolled over and over in the sand. Where the hell was our water? By the time I found it, he was sitting up, flames out, surveying the damage. He'd seared a big hole in his brand-spankin'-new RailRiders pants. "Damn," he said. I tried to calm down from seeing him in flames, while the evening cooled and grew quiet, pungent with sage. The desert glowed sandy pink, paled to the soft gray of the granite boulders. Darkness fell around us as we ate chili and rice from our pot.
After that, Porter was careful not to add too much fuel. His meals were one-pot triumphs--casseroles with noodles, cheese, vegetables, garlic, and sun-dried tomatoes. Each night, his legs stretched in front of him, he surrounded himself with the supper bag and all his spices. But at the North Fork San Jacinto River, the wind seemed to have blown out the invisible flames. Fire shot in a streaming arc to his hand. He jerked it back. Alcohol spewed from the bottle to his pants, his pack, his mat--they all caught fire. Orange-yellow flames surrounded him in the darkness.
By the High Sierra, Porter's burnt RailRiders pants were a patched, dirt-stained shadow of their former selves. Still, like him, they were indestructible. He wore them, his badge of thru-hiker courage, the entire 2,663 miles of the Pacific Crest Trail.
-- Gail Storey, excerpted (with slight change) from her memoir, "I Promise Not to Suffer: A Fool for Love Hikes the Pacific Crest Trail," winner of the National Outdoor Book Award.
Around the World in One Pair of Shorts
"I have one hole in my favorite pair of RailRiders Jammin' Shorts. I'm not sure when or how it happened. A stray ember from a fire, perhaps. Flame is the only thing I've discovered that can defeat these shorts, so I have a hard time believing it would be anything else.
One of my NOLS instructors taught me "ounces make pound, and pounds make pain." This is why I only ever carry one pair, and it's been the same pair for a decade.
I've tried to destroy them. They first traveled with me for a month through the Sierra Nevadas in California. I was thirteen. It was my first experience spending a prolonged experience in the wilderness. Packing for the trip, I was astonished when told it would be foolish to pack multiple shorts. Or underwear.
On that trip these shorts climbed their first 14,000 foot peak, Mt. Shasta in Northern California. Four years later, the shorts accompanied me up the first four Adirondack High Peaks I would ever climb. Adirondack hiking, you learn quickly, is often more like scrambling. Shimmying and sliding up and down small rock faces, battling through uncleared brush. The mountains may be smaller but the hikes are not.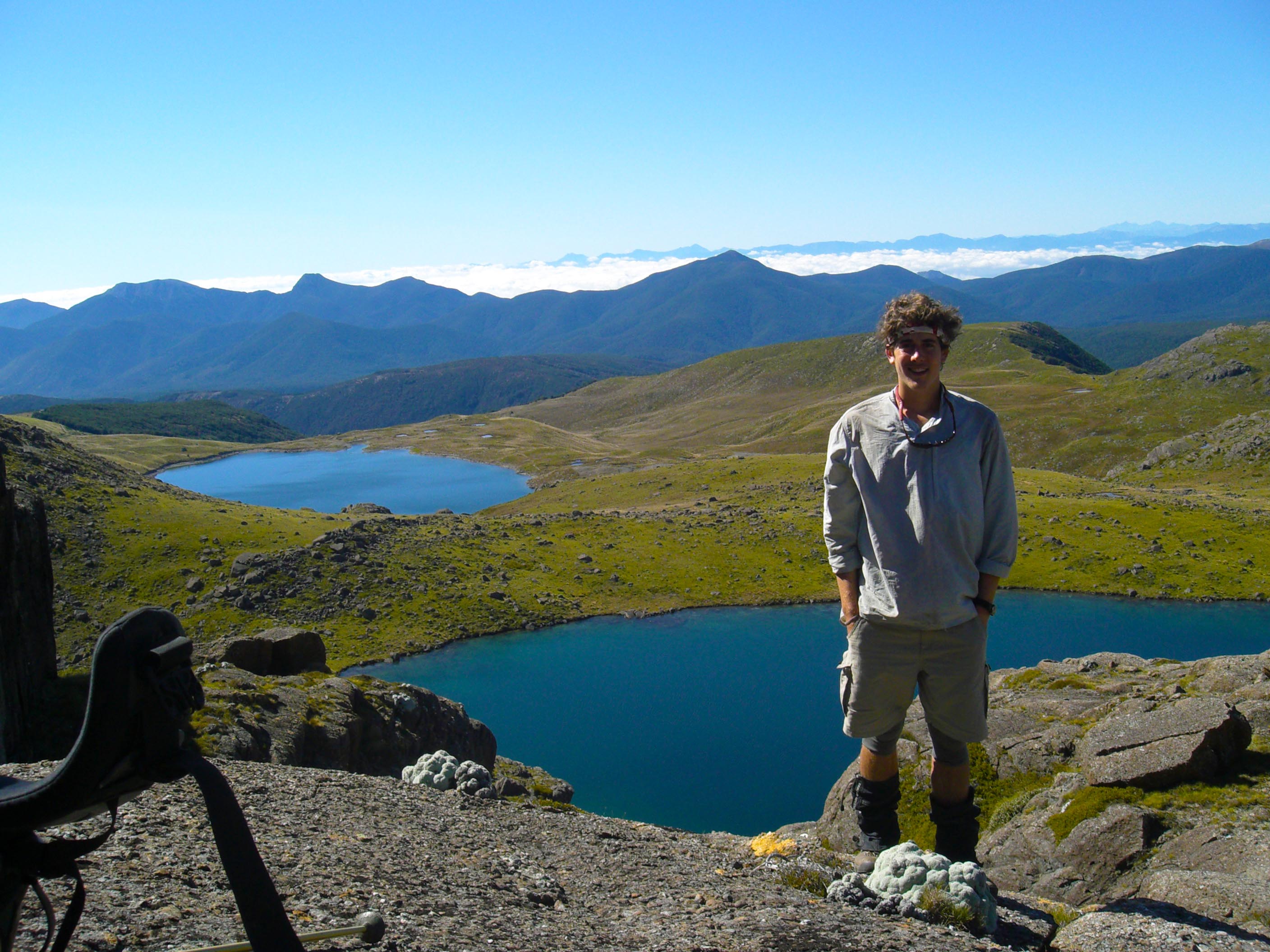 The shorts first overseas adventure was a three-month trek around New Zealand. They protected me from trails overgrown with nettle and viciously well-adapted alpine shrubs. I did once get stung by a wasp right on the tush. Apparently they are not wasp-proof. Just everything-else-but-fire proof. The shorts loved bushwhacking through the dense temperate rainforest, and swimming with the eels in New Zealand's pristine mountain rivers.
I nearly pooped my pants in these shorts in India during a period of violent illness. There was more wear than tear in India. Traveling through dirty city streets, along dirt roads in remote villages, over, under, and around the many remnants from India's past empires, my shorts' greatest test of wear-withal was my body. They passed, though I almost didn't.
The pockets have been filled with trash, dirt, rocks, socks, cameras, snacks, pocket knives, five different cell phones, three different wallets. They have protected valuables in an unknown land, and meaningful trinkets of students. They have been matched with hundreds of T-shirts which have been outgrown or worn out. They have helped me hike hundreds of miles, build trails, and travel the globe. Despite it all, there is still just the one hole. I am confident they will never die. It is nice never having to worry. Plus, I hate shopping for clothes."
--Zach d'Arbeloff
Walking Across Africa
By the end of the day, while on expedition in the heart of Africa, you best feel as good as you did at the start of the day. At least you should underneath. That's why I never leave home without my RailRiders underwear.
That's right, it's the base layer of all base layers that can make or break your day in the African bush.
My love affair with the RailRiders brand began during my 'EQUATORIA – A Walk Across Africa' expedition. It was the spring of 2011 and I landed in the African nation of Mozambique with the hair-brain idea of becoming the first person to walk along a unique route through four African countries.
From the Indian Ocean coast of Mozambique the plan was to trek on to Malawi, cross Lake Malawi by boat, then walk on through the South Luangwa National Park in Zambia and through Angola to the Atlantic. My aim was to bring awareness to MAG International and their work to clean up landmines.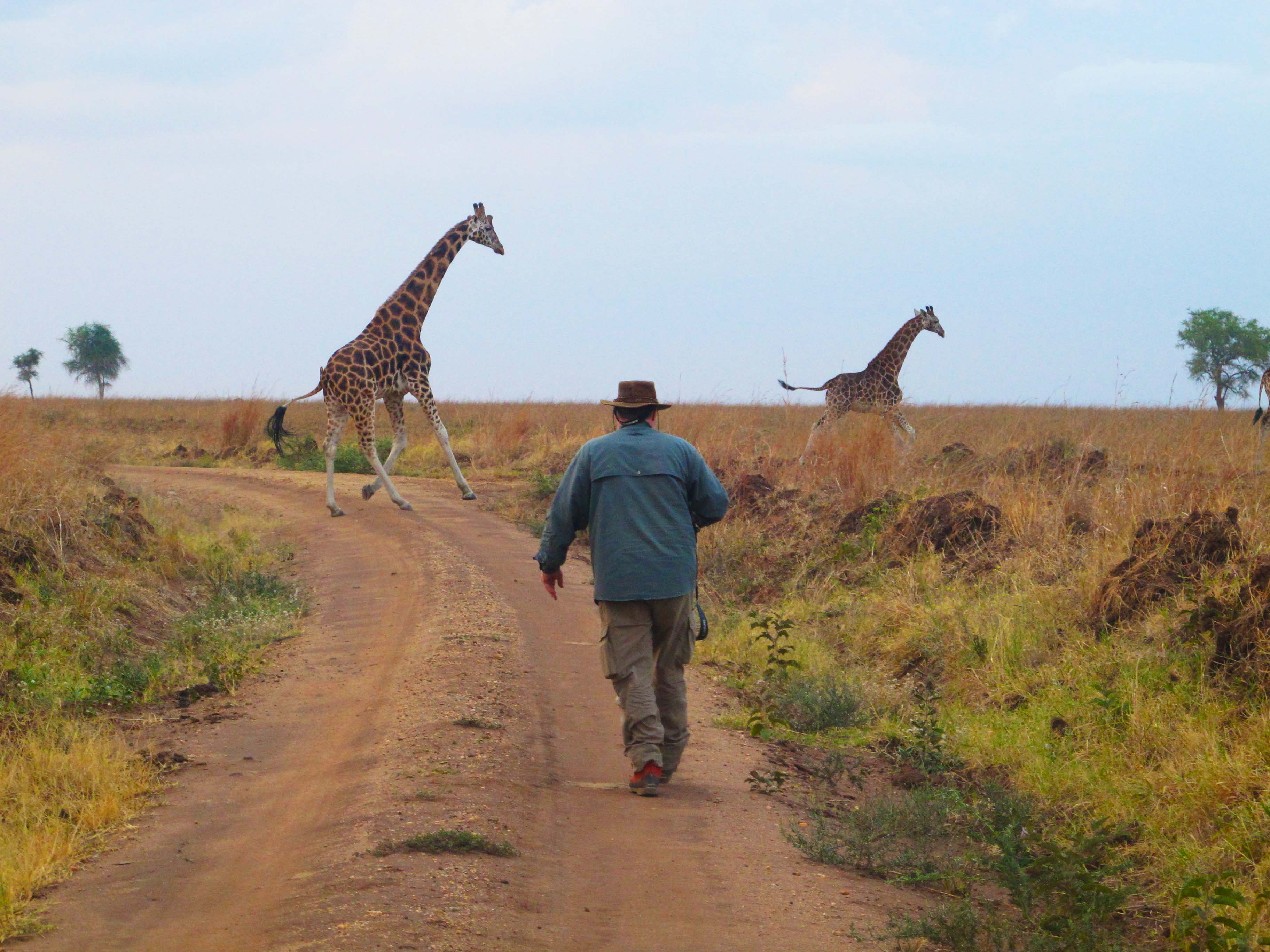 EQUATORIA's arrival to Mozambique was the exact same day the Navy Seals landed in an obscure neighborhood just outside of Islamabad, Pakistan. As the Seals took out Osama Bin Laden, and a light rain fell I started up a dirt trail near the Indian Ocean port city of Pemba chasing the sun west.
It was the last rain I would encounter for the next three months.
Each day began like the last. Roll out of the tent at 3am in the morning, break camp, empty out my boots in case creepy crawlers had taken refuge in them over night, fill up the water bottles, peel back a banana and start walking into the dark of the night.
Habit had me each early morning walking down the center of the trail or the road which ever presented itself to me. My reasoning was based upon what one of the local hired support porters had explained: "…The snakes like the warmth of the tarmac at night along the paved roads and leave around sunrise. They cross the dirt trails early in the morning on their way home."
After the first 350 miles in the Mozambique bush, we reached the first major town with electricity and bus service. Two porters resigned, the same porters that had put the fear in me regarding potential bandits along the remote trails that lie ahead.
Although, the two porters quit long before entering the real bush country, I never encountered a single person trying to harm me along my coast to coast journey, not even once.
All the same, long before I faced northern Mozambqiue alone, from the 'get go' before departing Austria my wife Gigi had sewn a secret pocket into each of my two pairs of RailRiders underwear.
Right there in the waistband there was (still is) a small pouch with a snap closure that was my 'hell or high water save all'. Inside, a US $50 bill that matches the two I had in my boots. As Gigi puts it, "just in case!"
To this very day when I catch a flight to Uganda or South Sudan or the Democratic Republic of the Congo, sure I carry along malaria prevention pills and my international health card proving that I am inoculated against rabies, yellow fever and cholera. But I also wear my RailRiders underwear with that fifty snapped in tight. You never know when you just might need to get back to the basics. Alone and wandering west through the African bush in search of the far side.
--Julian Monroe Fisher
Casual Fridays in the Versatac Shirt
Fridays are 'casual Fridays' – this means I can rock up in my Men's Versatac Light Shirt (Blue Spruce). After a full day's work in London, I'll jump in car with my mates and drive five hours up to North Wales, to the wonderful mountains national park called Snowdonia. The plan is always to arrive just in time for last orders at the bar before a day of trekking.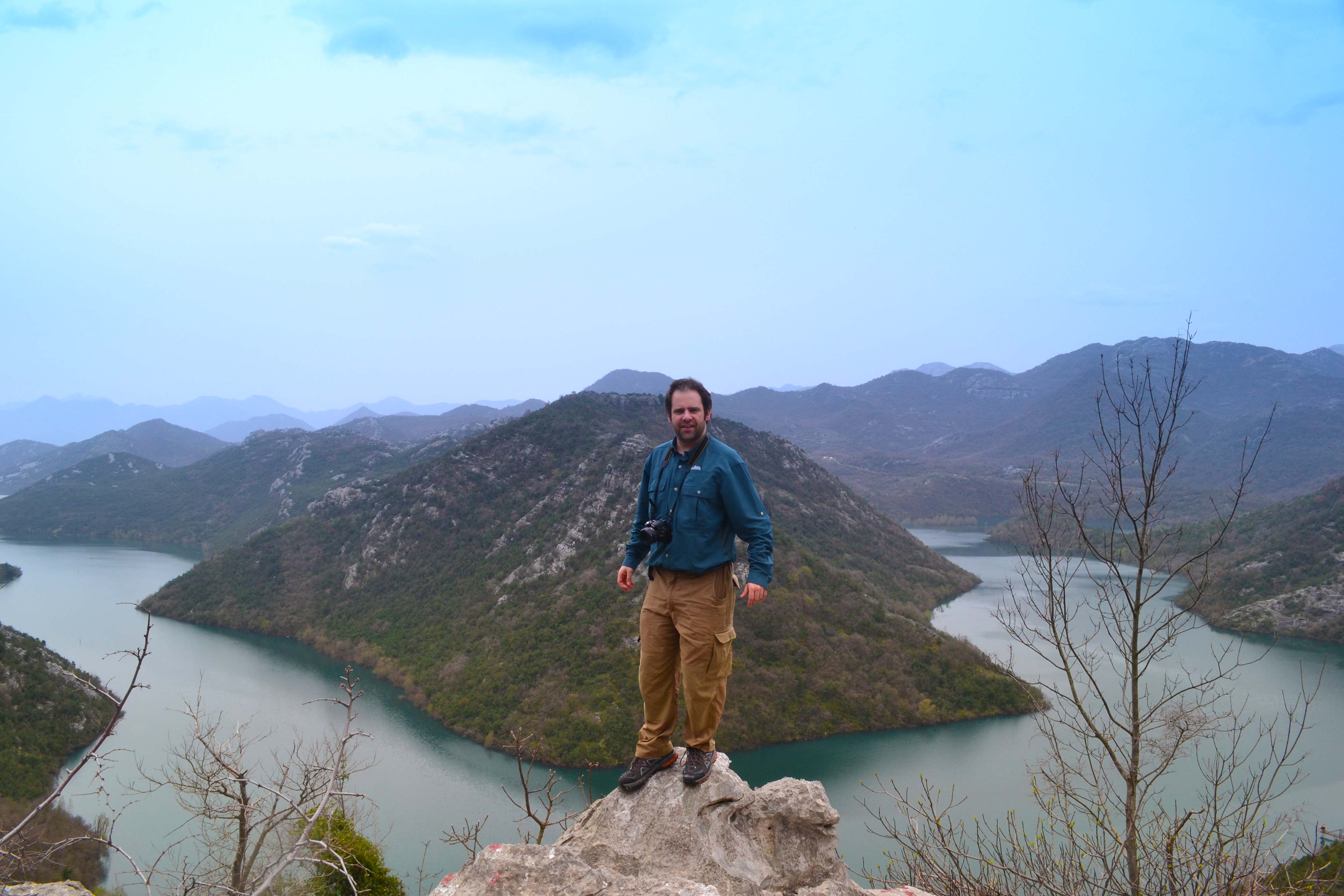 The mornings are usually wet; in fact Snowdonia is one of the wettest places in the UK. I'll wear my Versatac Light Shirt again. It lightweight material used for the shirt is fantastic and provides ultimate comfort; the mesh panels which run though sides and back provide ample ventilation as I sweat through my 9-hour trek. Combating the morning drizzle the fabric that RailRiders use is incredibly quick-drying, and ideal for those quick showers one should expect in Snowdonia.
Oh and the pockets-- I started counting how many pockets this shirt actually has on my last trek but I totally lost count. Suffice to say there's enough discreetly positioned for all your bits and pieces.
Of course the adventurer needs their trophy picture at the summit of one of the many peaks in the park – again the shirt comes into its own here. It seems RailRiders has mastered the delicate balance between durability, comfort and fashion/style.
Sunday, is home time. The drive back is a leisurely affair. I'll sit back still in my Versatac shirt now on day three of wearing it and think of which trek I'll do next week, but you can bet what where ever my weekends takes me – I'll most likely be wearing myVersatac Light Shirt. I won't lie to you. Sometimes I've forgotten to wash it but I'll still wear it the next weekend.
--Marek 'Maz' Nusl
Life in VersaTac
My first pair of VersaTac Mid pants lasted me over 7 years. They made it to 20+ states, 9 countries on 3 continents, and countless camping trips. The lightweight and fast drying design made them perfect for deep water fishing in the gulf, kayaking in the lakes, or crawfishing in small ponds. They were the go to pants in every occasion, even LSU football games.

I did not wear them out, though. In fact they looked almost as good the last time I saw them as when I bought them all those years ago. Somehow I lost them when I was moving out of state. When I arrived at my new home and realized they were gone, all I could think was "This sucks, I should have been wearing them"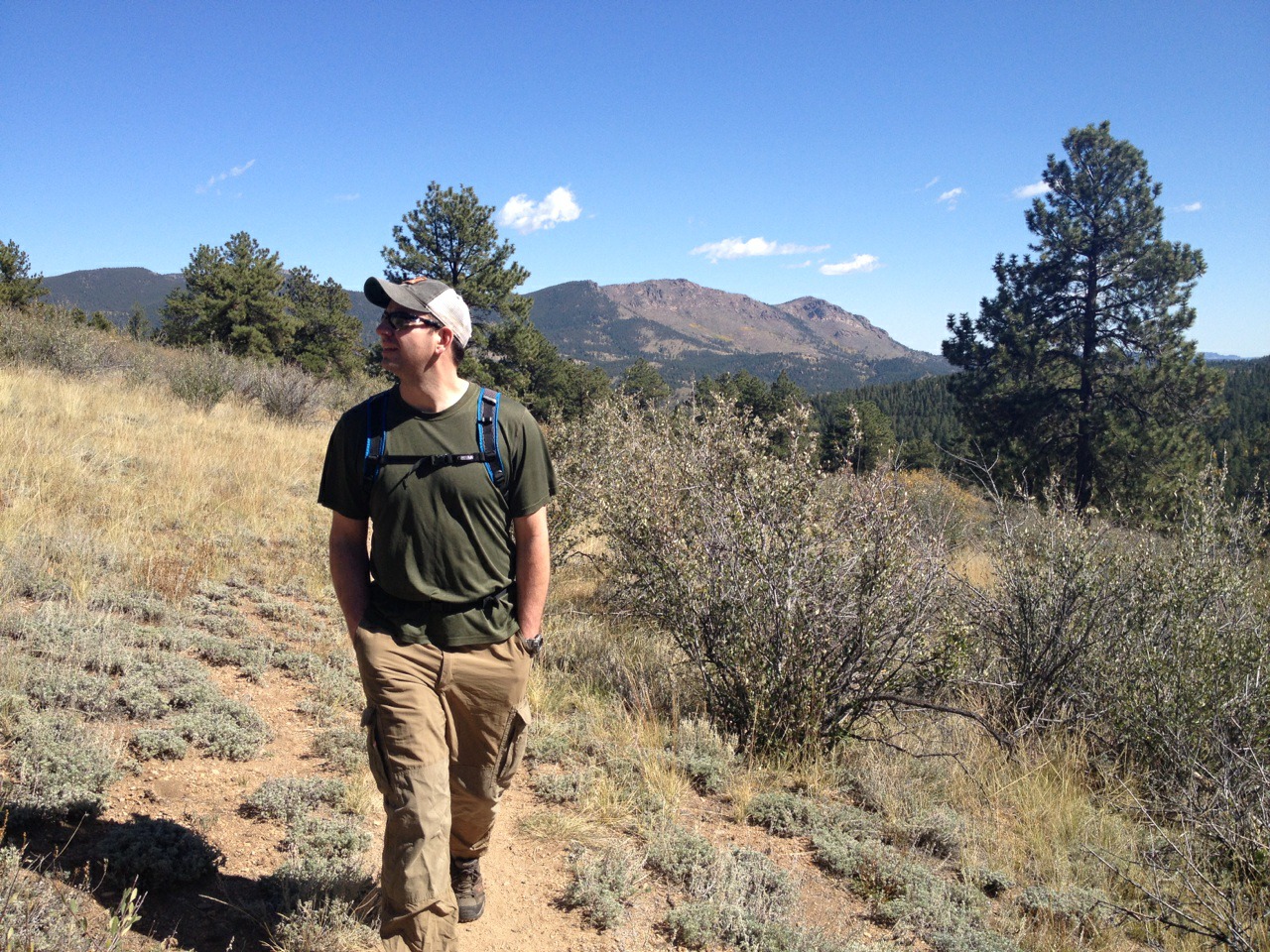 I've had my new pair of VersaTac pants for about a year now and they have been through even tougher conditions than the first pair. From kayaking with whales off the coast of Canada, long backpacking trips throughout the Colorado Rockies, hiking in the Olympic Range of Washington, mechanical work on the old Land Rover, the top of 3 fourteeners in Colorado, and even snowshoeing over the Continental Divide, the have been nothing but tough yet comfortable.

I have much more planned for them in the coming years. A trip through Latin America is on the list as is a few months in New Zealand. A month long trip to Northern Italy is being planned for mid 2015. Hiking the Cinque Terre, mountain biking in the Alps, and lots of agriturismo are on the list. I have been warned that mountain biking in the Alps might be one of the hardest things I have ever done and with the drastic temperature changes most people need extra clothing. I guess most people have not found RailRiders yet.

The RailRiders brand has expanded greatly since I bought my first pair of pants from them. My goal is to replace most of my wardrobe with RailRiders clothing. Other than the occasional suit and tie, I do not need anything else. Thanks again for making the Toughest Clothes on the Planet.
--Stephen Smith
Work, Play, and Weatherpants
I like to pack light. One pair of shorts, one pair of pants, one pair of boots, a couple shirts, a kayak...I guess I feel like I have to make up for the kayak. Blending work and play has become a bit of an obsession for me. Academic pursuits provide a great opportunity to make connections in remote places and get funding that can extend beyond the research that motivated it. When I got the opportunity to research aquaculture implementation in rural Uganda, I knew that it was going to be a good opportunity for "multitasking."
Based at a secondary school populated by orphans and refugees of one of a couple recent tribal uprisings, adversity was the norm here. I was relieved that my plastic boat was a welcome sight for those who caught me getting a paddle in each morning on the local lake, especially when I taught them to roll. From time to time during my stay I'd make the 14 hour pilgrimage by hired motorcycle, bus, minivan, and hired motorcycle to the mighty White Nile and it's high volume rapids to spend some time exploring the associated aquaculture industry that had already sprouted in that region of the country. When I did, I also brought my kayak.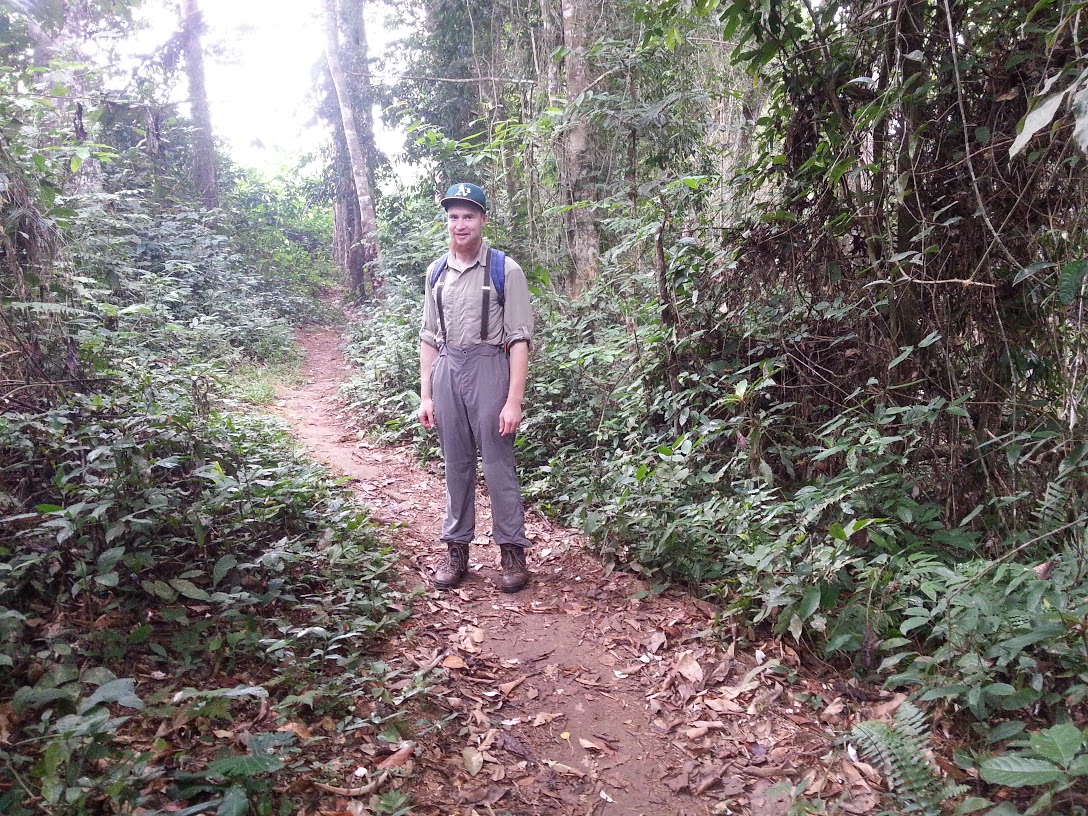 Trying to blend professional work with days shooting 30,000 cfs rapids, it was important to be able to function at a high level in both environments without being weighed down in transit. A 150cc bike struggles enough with two men and a boat without having to struggle with an additional duffle. Packing light was the only option and worrying about how I was going to look presentable at a government research facility after walking around a muddy fish breeding facility after paddling whitewater for 5 days was not an option. The RailRiders Weatherpants did it all from the river to days building and working in the breeding facility to the federal office. The same was true while biking around the country side looking for sink holes in the Savannah where I might be able to find suitable genetic stock for the local breeding program that I was managing. Even if they only have one set of clothes, Ugandans like to dress well. I liked that RailRiders helped me fit in with this aspect of their culture. I also liked that my mother wanted to know where I'd found a laundromat before my flight home for the holidays. What laundromat?
--Brendan Brown