Team RailRiders
Ripley Davenport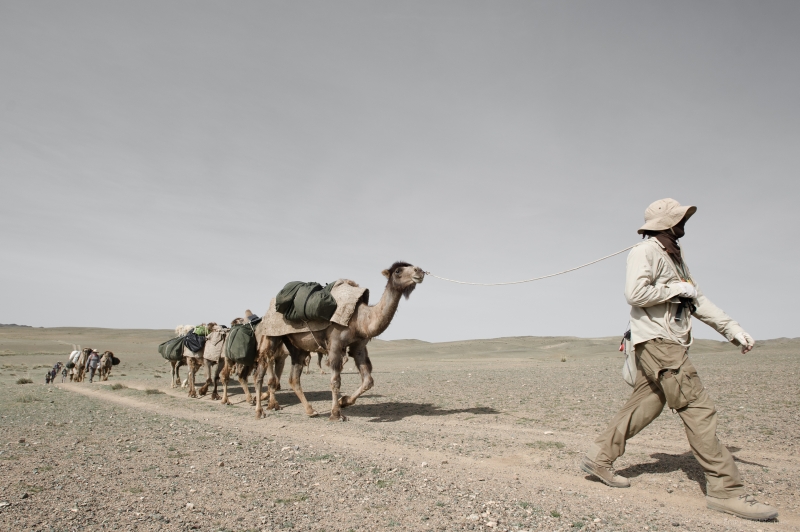 Biography:
Ripley Davenport is an explorer of desert regions. His curiosity and awe of the desert environment was inspired by a battered dog-eared second hand book about Lieutenant Colonel Thomas Edward Lawrence. Bound by leather, scruffy pages and a pungent whiff the seductive sepia images united with hand drawn illustrations ignited a spark, which led him to discover the wonders that the desert has to offer.
Ripley has engaged in many desert expeditions including crossings of the Namib and the Kara-kum desert. He has been taught, first hand, about complex desert social structures and desert travel in Niger and completed a concise journey across a section of the Thar Desert in India.
In May 2010, he attempted a solo walk across the vast landmass of Mongolia completing a 1628km/1012 miles man-hauling provisions and equipment weighing in excess of 240kg on a customised wheeled trailer, specifically designed for the journey.

Then in 2011, he

organised and led the The Gobi 'Crossing' 2011 Expedition, a non-stop trek across the fifth largest desert in the world and Asia's largest. For nearly two months, he and his team trekked across the inhospitable, wind-blown terrain, covering a total distance of 1,136 miles. 12 Bactrian Camels and a Mongolian/Khazak support crew assisted the journey.
In 2012, along with an expedition partner, an attempt was made to traverse Death Valley. The duo were unable to complete the arduous North to South man-haul but a solo second attempt is on the cards.
Apart from the desert, Ripley has trekked across many parts of Scandinavia, Germany, Spain, Switzerland, Austria and Ireland and done a bit of mountain climbing. Since 2003, he has also worked as a fly fishing guide.
He has been involved in raising awareness and funding for charities that continue to do outstanding work in supporting children, education, humanitarian assistance and health issues.
Shortly after his 2011 expedition, Ripley's world was turned upsidedown when he was diagnosed with Multiple Sclerosis, a nerve disease that can get worse with the dry heat he experienced on his desert crossings. Ripley turned the diagnosis into an opportunity to teach and inspire.
What's Next:
Not the type to be discouraged, Ripley has turned his eyes to a more friendly habitat for his body: water. Earlier this year, he came up with the crazy idea to swim the circumference of Ireland, unsupported. He is currently training to do a practice swim, 25 miles from O'Carroll's Cove in Caherdaniel to Kenmare Pier, in May, before attempting the 850 mile ultra-endurance swim around Ireland. Unsupported. If he succeeds, he will become the first person to have swum the entire circumference of the Emerald Isle. You can follow his training swims on Instagram, Facebook, and Twitter at @ripley_davenport.
Adventures:
RailRiders Gear:
Links: