Derek Hutton: Fishing for Indigenous Trout
Derek Hutton is a Head Guide for WorldCast Anglers in Victor, ID, and the manager of the Ski and Snowboard School at Grand Targhee Resort in Alta, WY. He is a certified river guide and a PSIA certified alpine and telemark instructor. He has been awarded both WorldCast's Guide of the Year and Targhee's Instructor of the Year awards. He has lived in Teton Valley with his wife, Margaret, and two sons, Reed and Ryan, for ten years now. While Derek never expected to be leading the exciting life he does, he treasures every minute of it.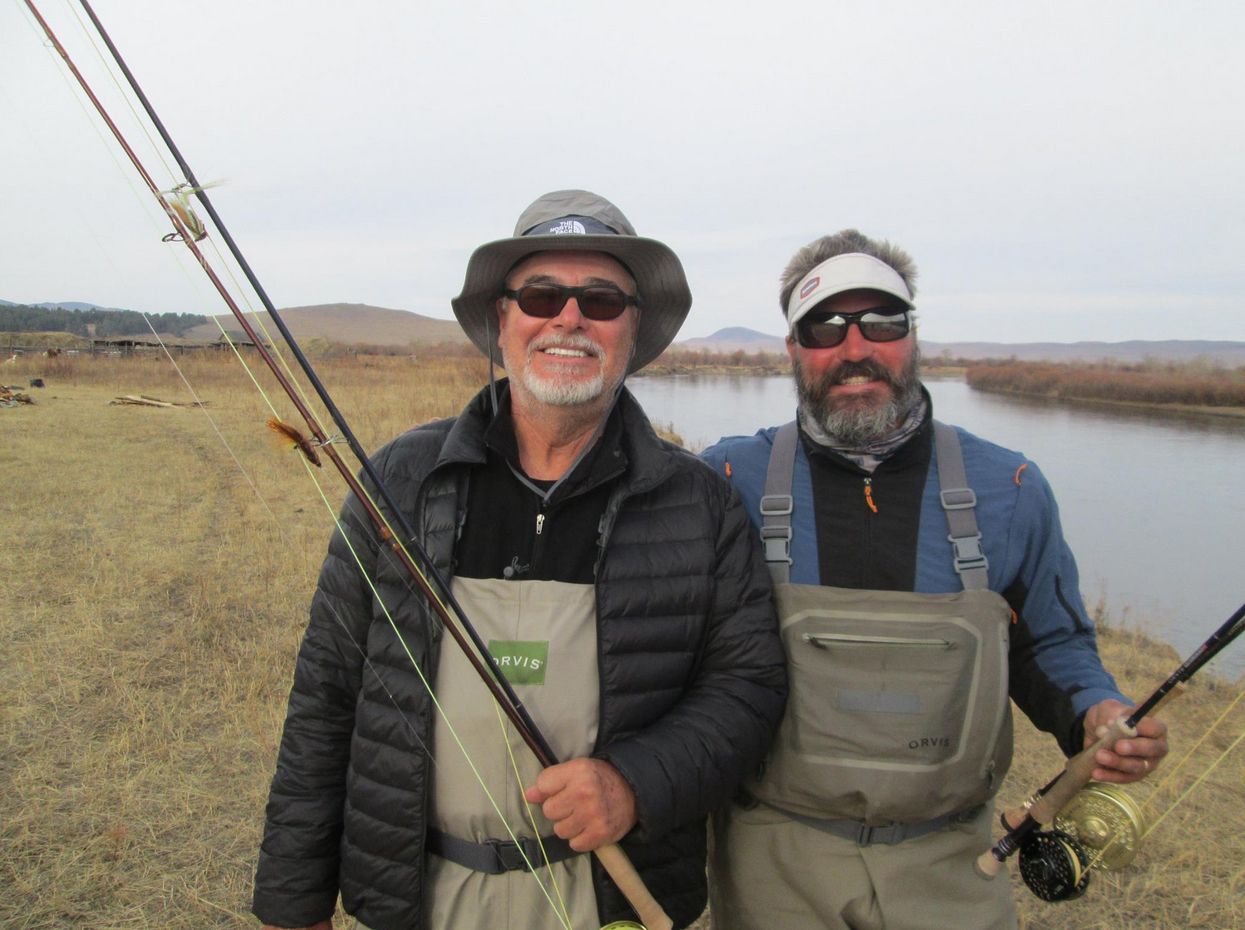 Derek and his father on the Amur River in Mongolia
RailRiders: Tell us a little about your upbringing in Tennessee. What got you into the outdoors?
Derek Hutton: I was born on a farm in East Tennessee, between Knoxville and Chattanooga, right new Great Smokey Mountain Nat'l Park. My Grandfather ran a dairy and tobacco farm and my father worked there. My grandfather was an outdoorsman so camping and hiking and fishing was a big part of my upbringing. We did a lot of weekend trips. It wasn't fly fishing, but it was a great way to experience the outdoors and it fostered a love that I have never lost.
RR: How did your childhood pastime become your career?
DH: My dad eventually left the farm and we moved away. My dad went up for training in New York so we moved from Alabama to New Jersey. My dad introduced me to skiing, and while he was pursuing his business career I went to prep school at Deerfield Academy in Massachusetts. A lot of my friends were from Vermont and New Hampshire, and when I got to high school I became a weekend skier. Deerfield had a small tow rope ski hill that the students to ski on. I played football, and the defensive backfield coach was the Nordic ski coach. One day he came up to me and said "Hey Derek, you like to hit, you don't mind falling, have you ever thought about ski jumping?" I said "I don't even know what that is," and he said "you just ski in a straight line, you don't have to turn, you crash a lot, I think you would be kind of perfect for it." And I was. The first time I ever experienced the Tele stance it was in a ski jump. We had a little 30m hill. I didn't have the skills to be a ski racer like a lot of my friends, but I loved being on snow.
Fast forward to my freshman year of college at Washington and Lee University I met my best friend and roommate who had a condo at Stowe, where we kept skiing all through college. He was from New England. I had grown up fishing – the worst way, you know, bait fishing for catfish – but he introduced me to fly fishing. I was familiar with the cast and having something in my hands, because I played lacrosse, and you got to spend a lot of time in beautiful spots. I've got a little bit of an obsessive streak so it never stopped.
RR: When did you first become aware of Teton Valley, and what led to you settling down there?
DH: I first went out to the Yellowstone area for a geology class on the National Parks, studying what I think is some of the most interesting geology in the country. We explored Yellowstone and Grand Teton National parks and the beauty of the area really stuck with me. The culture was something I'd never experienced before and I started to grab hold of it. That was my first introduction to this area. I had been to Colorado and Salt Lake City, but nothing like the Tetons and Yellowstone, with the wildlife and the size of everything and the small towns.
I wanted to go back. After graduation my father took me fishing out in Yellowstone, Wyoming, and Idaho. We fished many of the rivers I float down every day – the Henry's Fork and the South Fork. I always considered it a place I'd return to but I didn't know when. It had an ideal mix of small-town vibe, natural beauty, and a world-class playground for skiers and fly fishers.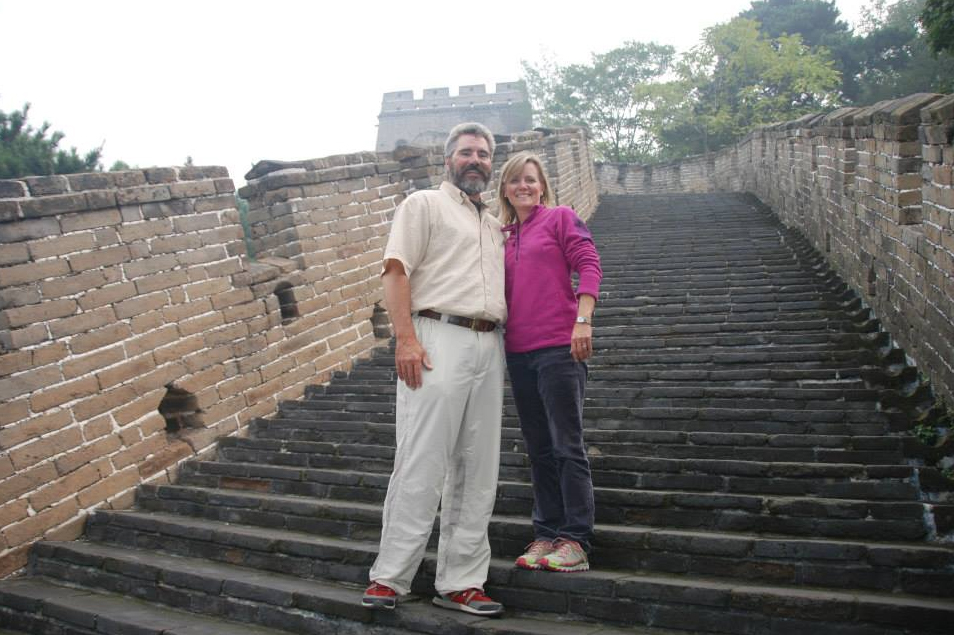 Derek and his wife Margaret on the Great Wall of China
RR: Then what happened? Did you move out after college?
DH: No, I went back to the South, got married, started a family; put the whole outdoor life thing on hold. We had our two sons, Margaret was raising the kids, and I was trying to pay the bills. We did that for about six or seven years until Ryan was three. Once he had good balance I remember looking at Margaret and saying: "that kid can hike and ski." That summer we did our first family trip, about a ten mile hike, and then that winter we came out to ski Jackson and Targhee. I fell in love with Targhee. We caught an 18 inch fresh storm, there were no lines, visibility was great; I was in blissful heaven. I got back to the condo to see Margaret and the boys and said "I think I have found it." You're always looking for somewhere you really love and that day I came back and I knew I had found a place that I truly loved.
I liked the small town feel and I loved Teton Valley so we moved out to Victor when Ryan was five, about two years later. There were a lot of dinner table discussions, it was something that we talked a lot about and finally, with Ryan about to start Kindergarten, Margaret said "If you want to do this now is the time." So we packed up and moved out to Victor.
RR: How did end up in your seasonal positions (at WorldCast and Grand Targhee Ski School), and how did that become your long-term career?
DH: I walked into an interview with Mark Hanson [the Director of Grand Targhee Ski School] and said "I know I'm not your ideal candidate, but I just want to spend a whole winter skiing." I planned on going back into resource management or banking but just didn't. Ended up getting hired by WorldCast, then asked back, and the next winter Mark promoted me to run kids programs and I never looked back. Now I'm the Ski School manager and I'm a Head Guide that's booked everyday for WorldCast. I hit the reset button, early mid-life crisis but it wasn't too late and it's worked out. Still married, still happy. Boys go to a private high school, Reed is about to go to college. My success has led me to other opportunities like this trip to Mongolia, an upcoming trip to Bolivia, and I'm working on one to Chile. It's been a lot of fun. It hasn't been easy, but it's not a grind.
I've still got my Deerfield network, and a lot of my friends from college, who love to ski and fish, and they have become a great client network. The two jobs have worked very well to complement to each other. Anybody that skis with me, if I like 'em, I invite 'em to come fishing with me, and vice versa. I have a lot of clients now that I see in both seasons. Here I am, living the dream. It's my 20th wedding anniversary, I'm proud of that, and I wouldn't give up my family or my boys for anything. They're great on the mountain, in the classroom, and I've proud of the life we've built here in Teton Valley, it's been a good run.
RR: What led you to your goal of fishing the world's most ancient species?
DH: It was something that just clicked. Trout, themselves, are kind of an ancient or residual species. Brown Trout were left behind in the rivers and lakes about 70,000,000 years ago when the last Glaciations receded. So, all Trout are fairly primitive species. I've always been infatuated with fresh water fish, especially in clear, moving water. I've always been drawn to rivers, I love the way they look and the way they sound, and I love what lives in them. Especially the indigenous species. It's not a planted fish, this is a wild, self-sustaining, self-spawning animal and you only find those in the most pristine areas of the world which are harder and harder to find. There are only a few left, like the Yellowstone Basin, the Amur River Basin, the Amazon River Basin, and the Galapogos. Here, we have the Yellowstone Cutthroat Trout. That's our indigenous species and it's very important – that's something we work on with Friends of the Teton River. A lot of people just fish to catch something – there's not a lot of value in what you caught, just whether or not you catch it. I enjoy catching certain fish and it presents more of a challenge, and a reward.
What I love about Yellowstone is that there are elk, grizzlies, moose, wolves, eagles; a fully intact eco-system and I love traveling down the rivers fishing them and I think it's cool. I started getting drawn to go catch these particular fish, like a native white fish or a brook trout in East Tennessee. I was targeting fish that were indigenous in a specific place. As I started to get more volume at WorldCast I was pulling more trips than anyone else. The heads of WorldCast sent me on an international trek and I chose Mongolia.
RR: This most recent trip was to Mongolia for the Hucho Taimen. Can you tell us about what makes that a special fish and what the area of Mongolia you were in was like?
DH: The Amur River basin is one of the most pristine places in the world. There's no industry, no cities, no timbering. The Hucho Taimen are only in that basin, they are indigenous there, and I thought it was incredibly cool that that was the only place they could be found. It's also one of the largest trout in the world and it lives for 30, 40, 50 years. I caught a 43 inch Taimen and the Mongolian guide we were with said he was my brother. There's nothing there to disrupt them, no factory influence, no one pumping fertilizers, and it's the least populated country on earth. It's an ideal place for me to fish because it fits everything I love about the sport and you get to catch some really huge fish.
RR: What other Ancient Fish have you caught, and where do you plan on going next to find them?
DH: The Amazon basin is a similar area. Amazingly pristine and untouched. The fish is the Golden Dorado, which is a very predatory fish. They have razor sharp teeth. The Amazon Paku is another one. There is a bunch of indigenous fish species in the Amazon that you can obviously only catch in the Amazon River and nowhere else. It's one of the most bio-diverse places in the world and it's still largely untouched. It's a wild as hell place and it's hard to get to. We'll fly into a city, take a charter to an indigenous tribal village, take a skiff ride, get in a dugout, pull up river, hike up to the upper tributaries, and then we will make a platform tent camp for six days. I'm motivated to pursue it and it's a great adventure.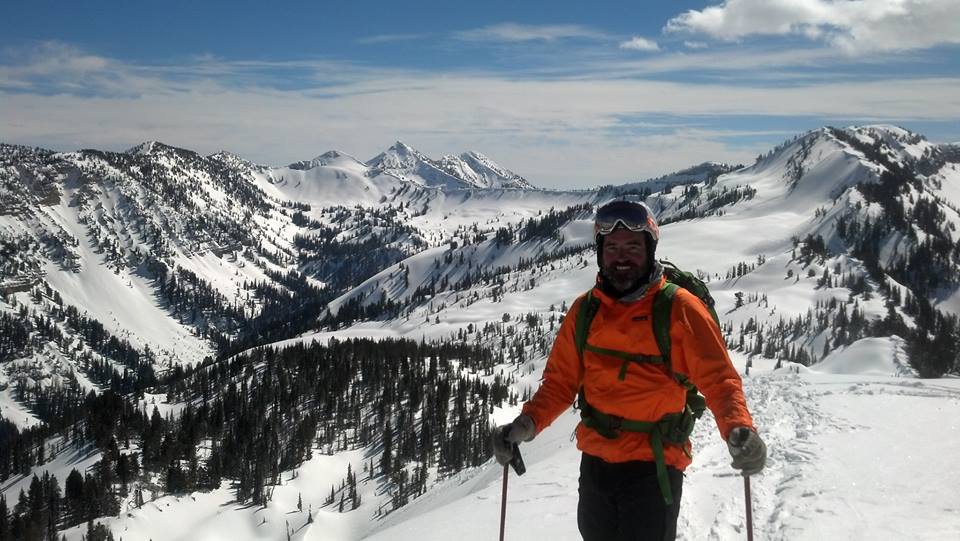 Derek Heli-skiing in the Snake River Range, south of Teton Valley.
RR: Do you have any advice for aspiring outdoor professionals? What keeps you going?
DH: I can't really say anything other than I love it so it's what I want to do. Once you're motivated, and you have a vision, you start to gain traction and pretty cool things become possible. If you asked me ten years ago if I would ever have an Idaho license and I wouldn't have been sure. IF you asked me fifteen years ago if I'd get to ski every storm in the Tetons, I'd say no way, but I've put in enough time, I've been successful enough and lucky enough to follow what I love to do. What you find out is you've got a lot more people supporting you than you'll ever imagine, people who are willing to help me out with things. I try to be real, authentic, and truthful, and gain credibility enough to do things I say I want to do. Then people take you for your word and you bring an authenticity to your communications. I love fly fishing, I love indigenous species, and large intact ecosystems. The best ecosystems on the planet, where nature is in charge. And I am very lucky to get to lead fishing trips to these places.
RR: You also serve as the director of the board for the Friends of the Teton River. How did you get involved with them, and what about the organization made you want to dive deeper?
DH: There was a backhoe working on Trail Creek, a tributary of the Teton River, and I got a little bit cranky. I thought someone was doing something wrong so I went down there, and it turned out to be FTR's riverbank restoration manager, working on a project to restore the creek. I said "what you're doing is perfectly aligned with my values and belief system," and decided right then to get involved. I went the next day to Driggs to buy a family membership, started getting the newsletter. I donated a day on the river with me to an FTR fundraising auction, started meeting other supporters, and eventually I was approached by the executive director at the time who asked me to be a board member. I told her I'd be proud, and it's been six years this may, and last year I was elected president of the Board where I plan to spend about two years. Our missions are clean water, abundant fisheries, educational outreach, and stream bank restoration. We seek local, state, and federal grants to help maintain water quality and stream bank stabilization. We do science based researched and restoration movements, including measuring biodiversity and quality of water. We're a little bit of a watchdog group but more of an on-the-ground research and restoration. We call ourselves a science-based non-profit. You can find us at www.tetonwater.org.
RR: Now that you've been introduced to the RailRiders brand, what do you think? How did your gear serve you on the river in Mongolia?
DH: You know, I brought all my own gear just in case, but I wore my RailRiders all day, every day. I especially love my X-Treme Adventure Pants and Weather Top. The Velcro cuffs on the pants make it really easy and comfortable to wear under waders and to take waders on and off. A lot of people wear long underwear beneath waders because pants tend to bunch up. The cuff prevented that, so I could take off my waders and then I was good to go, no change necessary. It's amazing how good they look and even with all the abuse they're never wrinkled. The Weather Top is great because it is easy to layer under and offers great wind resistance on the river. I also like the Velcro wrist cuffs, which made it easy to cinch down and protect my under layers if I was releasing a fish or putting my hands in the water. I was very impressed with the gear and I will continue to wear it in the Tetons. It's great stuff.
You can book Derek for a day on the river or the slopes at http://www.worldcastanglers.com/ or http://www.grandtarghee.com, respectively.