Edward Ignacio: One Tough Triathlete
Edward Ignacio is not your typical triathlete. The FBI agent and Hawaiian native competes in eye-craning"what's-he-wearing?" attire during the run segment. He has participated in triathlons across the state wearing his Battle Dress Uniform (BDU), ballistic vest and helmet. That adds up to 40 pounds of extra weight, and is quite remarkable in a sport that values shaving weight as much as possible. The reason Edward does this is to raise money for the Hawaii Law Enforcement Memorial Foundation, whose primary purpose is to create a monument "to honor our sons of Hawaii who have died in the line of duty, while serving the people of the State." Hawaii is the only state in the U.S. that does not have a memorial to honor its fallen officers. Edward wanted to change that, and so he spearheaded a campaign to establish a non-profit foundation. More information here: https://www.crowdrise.com/2015OtherRaces/fundraiser/edwardignacio
* * *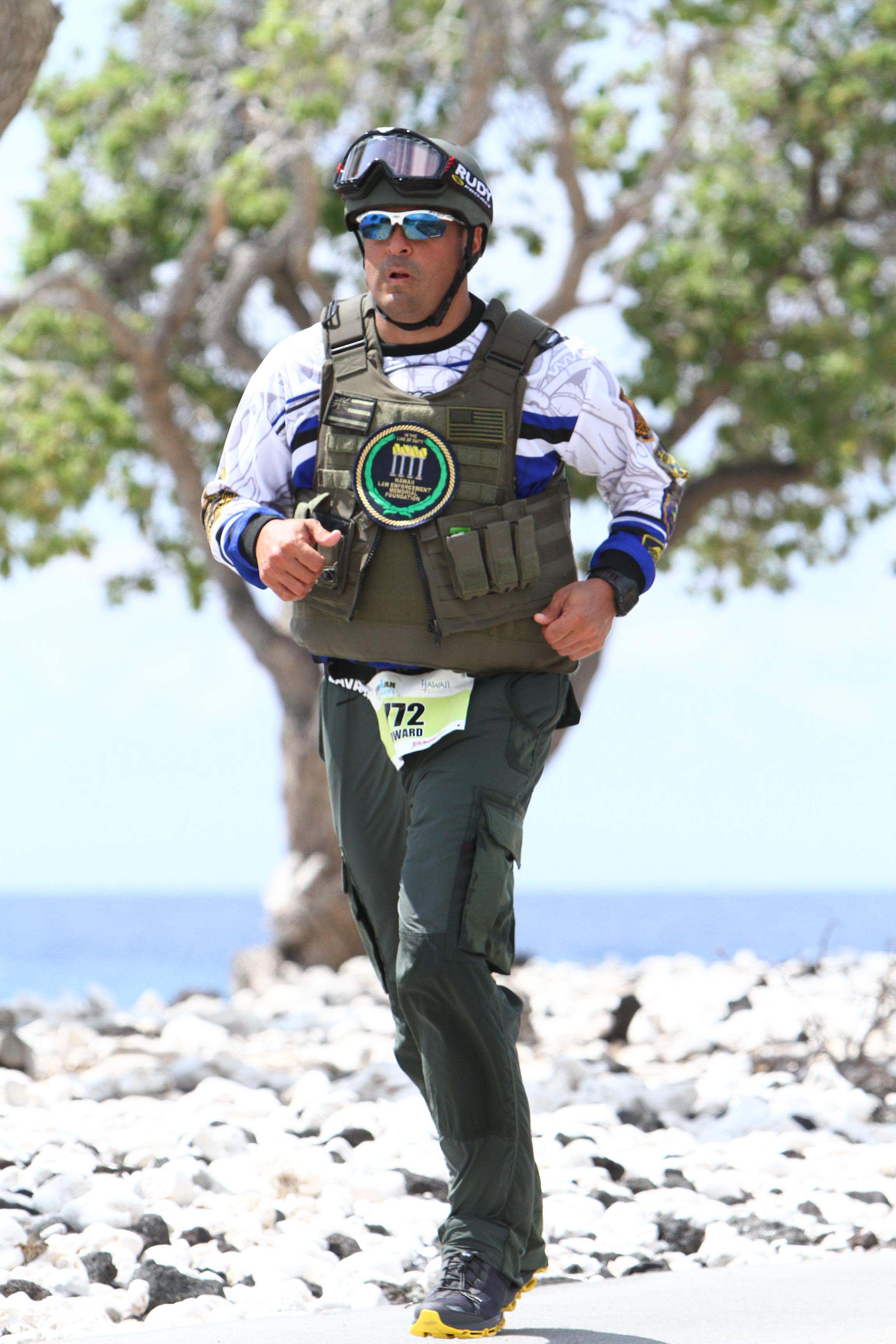 Accompanying him on his fundraising quest has been RailRiders; he wears Versatac Pants on those sweltering runs. We spoke with him recently about the Foundation, training and racing.
Question: What got you interested in law enforcement, especially for someone growing up on the low-crime Big Island?
Edward Ignacio: I come from a family of public servants, policemen and firemen. My father was a police officer. I have uncles and cousins who are either retired or in the department until this day. It was only natural that I got into the family business. I have been in law enforcement for over 22 years, starting my career as a police officer in the Honolulu Police Department and Hawaii County Police Department before getting into the FBI.
Q: What were your most interesting experiences as a police officer in Honolulu? A lot like "Hawaii 5-0"?
EI:Other than working in paradise, and the occasional 5-0 reference from tourists, it's nothing like the TV show. In my 22-year law enforcement career, I have had many interesting and exciting experiences, just like officers across the country deal with on a daily basis.
Q: What kind of training do you have to do to get accepted by the FBI?
EI: All FBI agents are required to graduate from the FBI Academy at Quantico. It's a rigorous process to get in consisting of written and oral tests, background checks and challenging physical training tests which measures overall physical fitness based on situps, pushups, pull-ups and running events (300 meter sprint/1.5 mile run).
Q: Tell us about the lives of these fallen heroes, and how some of them died in the line of action.
EI: All 65 officers were killed in the line of duty in various capacities such as rescue efforts, adversarial actions and unfortunate accidents while on duty.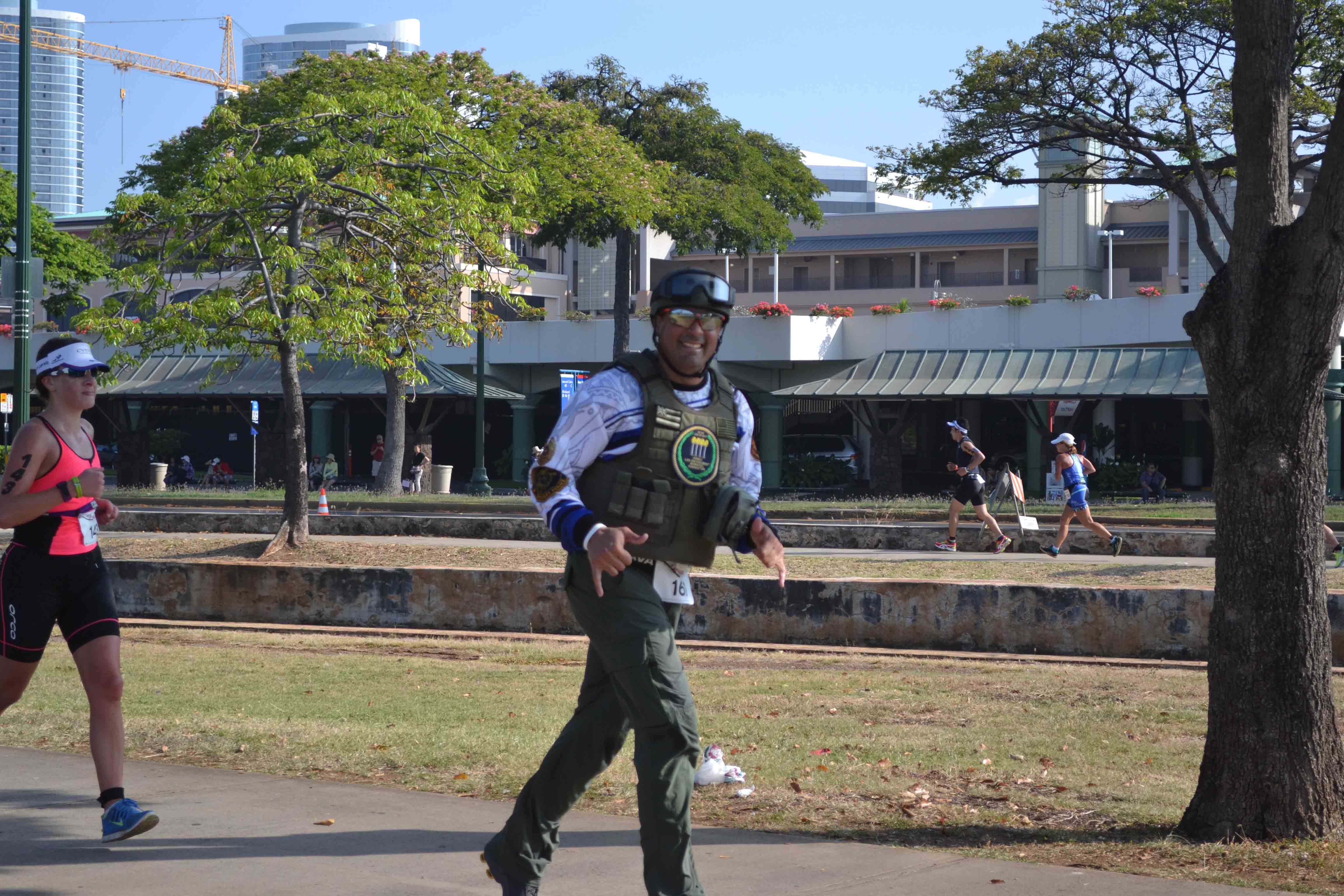 Q: How much triathlon training do you do?
EI: In order to race the way I do, I usually train at least 6 days a week, with at least 2 training sessions a week done in my 40-pound vest.
Q: Do you use the weights in the pool, and during the swim segment of the triathlon?
EI: I only wear the vest on the run. I coordinate with the race director of every event I compete in. It was the consensus that it would be too dangerous for me and my fellow competitors if I wore the vest during the swim and bike, so I just do the run in gear.
Q: How do you do in races?
ED: For the sprint and Olympic distance races, I usually finish middle of the pack for my age group. For the longer ones, I'm bringing up the rear. Last year, I did Hawaii Half-Ironman and full Ironman in my vest. This year, I'm wearing a new vest that will be 50 pounds. I'm doing at least two Half-Ironman distance races and hopefully the Hawaii Ironman again.
Q: What is it like to train and race wearing a 40-pound vest?
EI: Heavy and hot! It's demanding on the body, especially on the shoulders. I wear compression gear underneath to help with the muscle fatigue and chafing. However, this is why I am doing it, to symbolize sacrifice; if it were easy, I would be just another age grouper racing for a cause. The vest has all the Kevlar and the protective ceramic and iron plates that SWAT operators wear when they do entries. It weighs about 36 pounds, with the helmet and the long sleeve shirt and RailRider Versatac pants, it adds up to 40 pounds of additional weight.
Q: What are some of the comments by other racers or spectators?
EI: Very encouraging and supportive. At first, people didn't know or understand what I was doing, but as the word spread about my charity campaign, the support grew exponentially. So did the awareness to the issue, and the donations to my website on Crowdrise. Triathletes are a tight-knit and generous group, and I knew that I would be well received and supported. It was very cool last year when I finished Kona Ironman and the winner gave me a lei when I came across the finish line and whispered in my ear, "you're nuts, that was incredible."
Q: How did you first find out about RailRiders?
EI: I have held many positions in the FBI, and while I was a supervisor on the SWAT, Bomb-Tech, WMD and Hazmat teams, I was exposed to RailRiders and absolutely love the products
Q: What do you like most about the clothing?
EI: I find RailRiders to be very durable, non-restricting and comfortable. When I was considering what pants to use to race in triathlons, let alone the Ironman, the choice was pretty obvious to me.