Keeping You Safe in the Outdoors
Team RailRiders member Chase Lewine is a Park Ranger at Zion National Park in Springdale, Utah. An avid outdoorsmen, Chase takes particular joy in exploring the most remote areas he can, and avoiding backcountry contact with other humans. We sat down to talk with him about what it was like working for the National Park Service, why he loves the Southwest, and why every park ranger should be wearing RailRiders.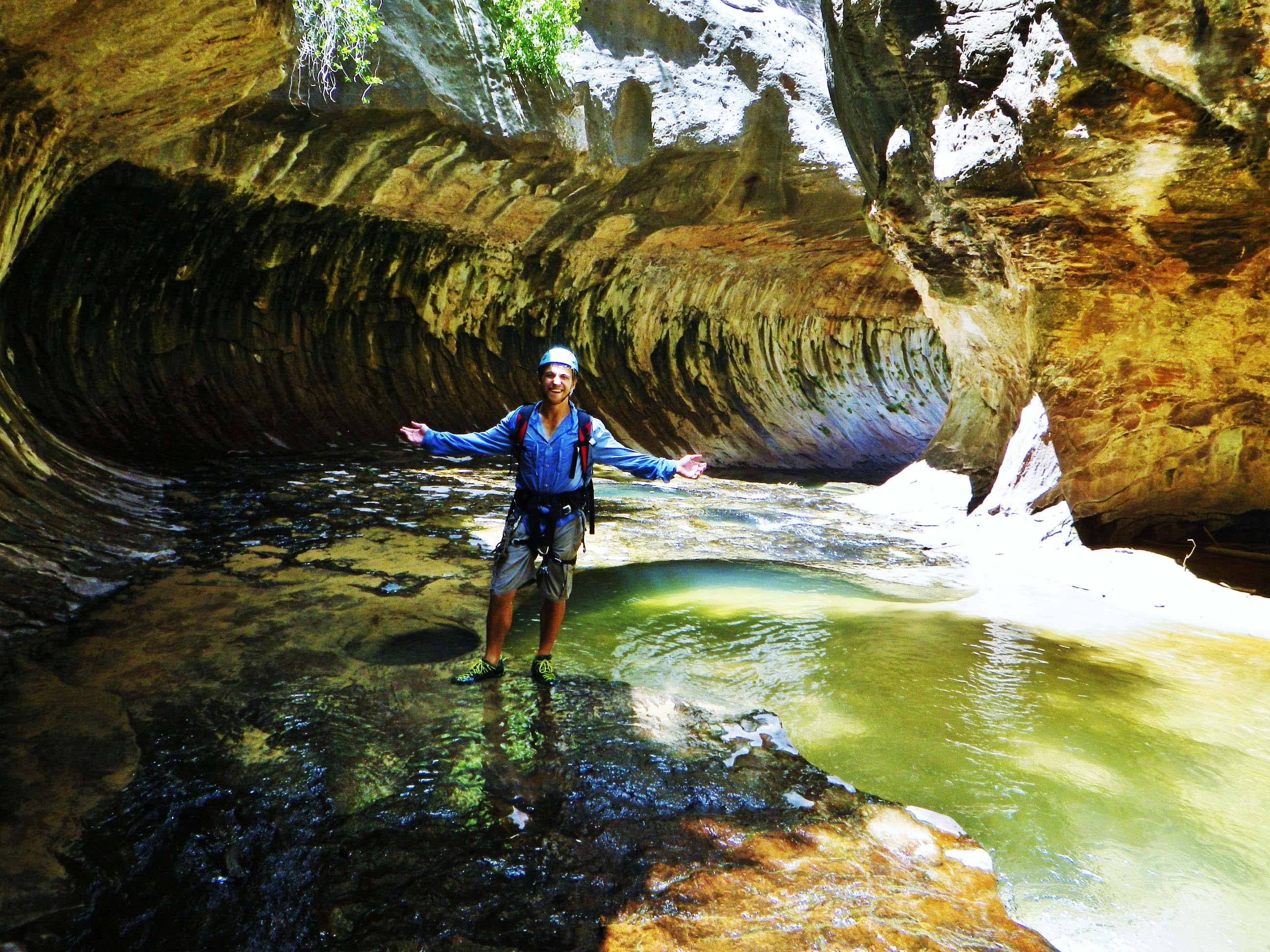 Chase in the Subway Canyon of Zion National Park, showing off his RR swag.
RR: How would you define your role with the National Park Service this season?
Chase: I am volunteering for Zion National Park with emergency medical services. I help with Search and rescue, all EMS calls, ambulance driving, structural fires (if any cars, buildings or dumpsters catch on fire). Zion is a unique environment with all the canyons, so we get to do a lot of canyoneering. A big part of my job here is PSAR (preventative search and rescue) and making sure people are safe. I talk to them, make sure they have the proper gear and equipment to help create scenarios where people don't need to be rescued. Half the time I am out on the trail talking with visitors, and the other half I am helping with rescues.
RR: What other National Parks have you worked at?
Chase: I worked at Mount Ranier National Park doing a similar position to this one. It's a very different environment up there. What's unique about the park service is that every park has its own elements and is very unique. There is always a lot of learning to be done. I grew up in the Northwest but I fell in love with the Southwest.
RR: What unique challenges does Zion present?
Chase: Zion is a very popular park (I think third or fourth most visited in the country). We see a lot of people, so overcrowding is a huge problem. Angel's landing, a very popular hike in the park, is constantly bottlenecked with people going shoulder to shoulder along the chains at the end of the hike. And, with more people we get more overconfident people and people who don't take the time to figure out the proper way to do things. And then you get the stupid people who try to do gainers in the narrows and break an ankle.
Another challenge is the heat. People don't realize how hot the desert is. It's always 100 degrees and people don't realize that they shouldn't be hiking at high noon, or how much water they need. We deal with a lot of heat exaustion and dehydration.
The work is exciting, it's a great environment. One of the aspects of the role I am in is that I never know what I am going to do each day. A rescue could happen at any time.
RR: What has been your most exciting day on the job this season?
Chase: It's been a slow year where we haven't had a lot of exciting ones, just a lot of people breaking their ankles in the narrows that had to be rafted out.
We did have a shorthaul early this year, where a guy got stuck in a slot canyon and we had to bring a helicopter out. We couldn't land the helicopter in the canyon of course, so we had to drop a 150 foot rope and secure the man to the rope and haul him out.
We always enjoy being out there on the scene but it's good when the park is staying safe.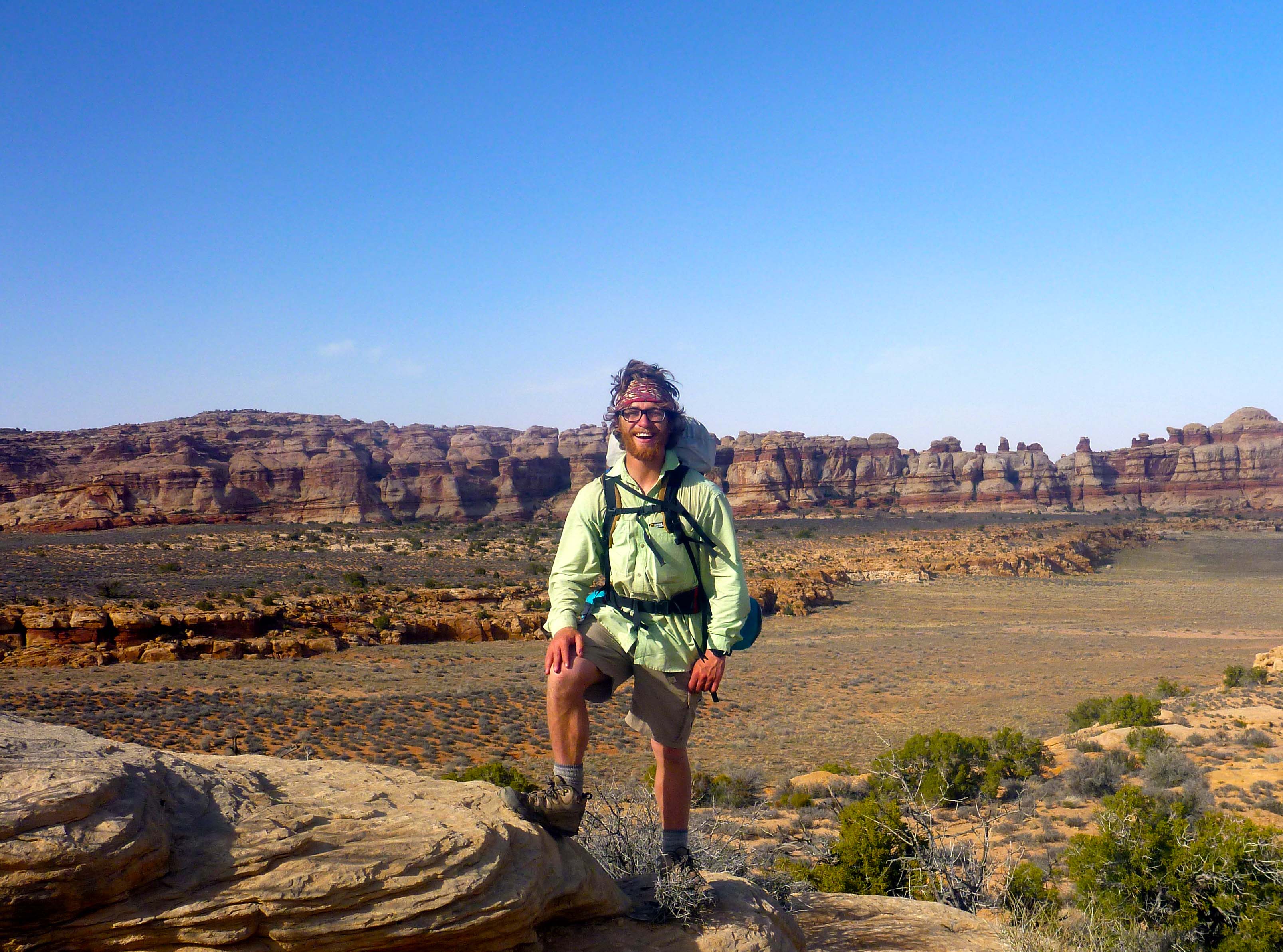 RR: What are the best personal adventures you've been on while working at Zion?
Chase: Cedar and I are constantly doing trips together in the Southwest region. We did the subway in Zion, a very famous canyon route here. That was a really neat trek to do.
We went out into central Nevada earlier this summer to try to get to one of the most remote wilderness areas you can get to, which involves over 200 miles of off-road travel. Our intent was to climb a remote peak, but there was so much bushwacking we had to bag it.
We spent a week backpacking through the remote areas of the Canyonlands. We were out for a week and didn't see a single other person.
We have another trip coming up shortly in October. We're going to the Grand Canyon to do a remote trail there, called the Vassey's Paradise, a lesser known one on the North Side of the canyon. It's pretty cool because hopefully we won't see any people.
RR: Do you have a favorite spot that you've visited so far?
Chase: Every place is unique. I've come to love and admire the SouthWest for the last five years I've been here. It's a tough choice but I might have to go with the Maze District in Canyonland, where Cedar and I went for last spring break. It really had all the elements of a perfect adventure trek, as we were able to backpack for an entire week without seeing a single other person. That's one of the problems that we're having in the National Park System right now is overcrowding, and it's nice to be able to have that peace and solitude for our camping experience.
RR: You wear a lot of RailRiders. What do you love about them?
Chase: The clothes have proven to be the strongest by far. I wear your pants everyday on this job. They're remarkable. I can slide through narrow canyons and they'll never care. I had the extreme adventure pants and literally wore them for 80 days straight in South America. They never got washed, were completely soiled up, went through every environment from hot to freezing, and they didn't break or tear at all. They were comfortable, they were warm, they are just great travel pants. The clothes you guys make have been proven to work in all environments, especially for adventure travelers. Lightweight clothing that is easy to maneuver and travel in. It incorporates the elements I like: lightweight, comfortable, really durable, and it can handle a wide variety of environments.
RR: What's next for you? Where will you and your RailRiders be traveling in the upcoming year?
Chase: I'm here at Zion for another month and a half before my seasonal position ends. I will probably do some more trips now that the weather is more reasonable. My position is seasonal and ends in November.
For the winter I will be going to Australia and backpacking with another good friend of mine. We'll be backpacking up the coast and hopefully get into the Outback and do some harsh trails out there, for about a month. We will most definitely be packing our RailRiders and will keep you up to date on our adventures!