Super-fit Adventure Athlete
Interview with Cathy Sassin
With her infectious smile, hair-trigger laugh, and girlish charms, it is easy to imagine that adventure athlete Cathy Sassin is the sweetest and most huggable person to have ever shlepped a pack or hit the trails with her Leki poles. Wrong at least in the blast-furnace heat of competition. In adventure racing, the 39-year-old multisport warrioress is as tough as they come rolling off the multisport assembly line, having captained teams to victories in multiday Philippine and Brazilian jungle torture tests, along with numerous top Raid and Eco-Challenge placings. Shes driven to excel, a passion that extends to other achievements and career aspects. Sassin has been a spokesperson for Hi-Tec adventure races, owns her own fitness and nutrition consulting business called Intrafitt, spent years in the Golds Gym salt and sweat mines in Venice as a high-profile trainer, and toured nationally with American Gladiators as the wily take-no-prisoners Panther, and was a contestant on "Survival of the Fittest. In the world of super-fit, Cathy is, well, the gold standard. RailRiders spoke with the always-in-motion chatty Cathy, who was in Bend, Oregon. Cell phones chirped in the background, her Intrafitt employees were waiting for her to start the staff meeting conference call, and she still needed to squeeze in a three-hour skate ski in ankle-deep fresh powder.
Q: Do you ever go on backpacking trips when you're not moving at full speed?
CS: I've been telling myself I've wanted to do that for years, and I still haven't. I'll do, say, Mt. Whitney in one day with friends. I'll look at these people who are camping and think to myself, 'Oh, my God, I just want to sit down and have a cup of hot chocolate!'. One day when I retire from adventure racing, I'll be able to enjoy the backcountry at a slower pace!
Q: You're not governed by the muse of John Muir?
CS: No, but I'm not his age either!
Q: Have you physically recovered from Borneo Eco-Challenge?
CS: You never know about those things. They hit you way later in life.
Q: Like Sigourney Weaver in Aliens III ?
CS: Usually six to nine months after a race and what I've taken home from the country, aside from the good memories and nice people, are some intestinal friends that I didn't buy at the tourist stops.
Q: You didnt get a T-shirt that reads, "I adventure raced in Borneo and all I got was a bad case of leptospirosis"? What has been your nastiest racing experience?
CS: I really don't like caving. I have been totally immersed in bat guano up to my ears and in every orifice in my body, in my equipment, through the water drinking tubes and then not have clean water to rinse or to wash off in. Caving in Borneo and the Philippines were the bad ones.
Q: Describe any differences between the French, Spaniards, and U.S. racers
CS: European racers tend to want to save as much energy as possible and would rather go around a mountain instead of over it. They get there faster and spend less energy. They also have a wonderfully casual and playful nature no matter how bad things look.
Q: Youve been in the sport a long time.
CS: Since 1994.
Q: What are the major changes you've seen?
CS: The number- one change is its popularity. Another one is that the level of competition has gotten faster. It has changed from a real adventurer's expedition to a foot race. Many early components in racing such as tough navigation and strategizing have been taken out or minimized.
Q: You've done other extreme sports. What was the Molokai outrigger race like?
CS: Outrigger paddling is a traditional Hawaiian sport rich in culture. It was the original way of getting from island to island and the boats can be found in varying design throughout the Pacific Islands all the way to Australia and New Zealand. Six paddlers paddle synchronically with a canoe paddle, switching sides every 15 strokes. Each seat in the boat has a different responsibility and skill. In long channel-crossing races (Catalina, Molokai) a support boat drops replacements in the water, but you have to pull yourself into the boat at the exact moment the seat you're replacing is rolling out, while the boat is passing you at full speed. You grab the side of the boat at your seat, pull yourself in, drop into your seat and start paddling without missing a stroke.
Q: How did you do in Survival of the Fittest?
CS: I was this sea-level chick from Gold's Gym going up against all these mountain chicksclimbers, runners and mountain bikers. I had only mountain biked once before. I had never been in a whitewater kayak, but I came in fourth, which was fine for me! The girl that won was a whitewater kayaker from Durango, Colorado.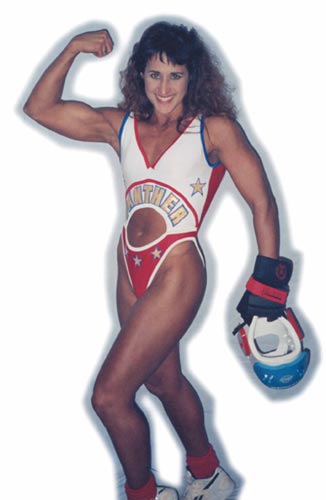 During her glad-handing American Gladiator Days
Q: What's the difference between a mountain chick and an L.A. sea-level chick?
CS: Now that I live part-time in Bend, Oregon, I'm partially a mountain chick now. You can run out your backyard and go mountain biking, trail running, skiing, climbing, kayaking
Q: And when you were primarily an L.A. chick?
CS: My cardio consisted of running in the sand on the beach and sucking in big doses of smog every day rather than running up the side of a mountain
Q: This is when you worked at Gold's Gym in Venice?
CS: Yes, the mecca of the bodybuilding fitness world.
Q: And you didn't have to wear a bhurka on the bench press.
CS: My whole training program was different then. I always did cardio stuff but it was through adventure and other extreme sports. I still train with weights. Its super critical, especially for women, to have really good upper body strength and one of the only ways to do that is through resistance training.
Q: How many pull-ups can you do?
CS: Oh, I normally do four sets of ten for the start of my back workout.
Q: So you have upper arms that are better than Linda Hamilton's in Terminator II?
CS: No! My arms are bigger than hers for sure!
Q: What was American Gladiators like?
CS: American Gladiators was all about a TV show and entertainment, but the games were super fun. It was like going back to grade school on the playground. You got to do stuff that you just aren't able to do as an adult. For example, there was a game where you're attached to a giant bungee cord and you jumped off a tower, landed one foot on the ground, jumped, and had to go up and block the competitors from getting these balls stuck on a pillar that came down from the ceiling.
Q: How would you do in pro wrestling these days?
CS: I have no desire to ever consider pro wrestling.
Q: Why?
CS: A lot of the pro wrestlers are clients of ours at Intrafitt. They just get the heck beat out of them. They have a horrible life. They get hurt, they don't get paid a lot and they get broken down. It's a short life and it's not a fun job.
Q: Describe what Intrafitt does.
CS: My center is based at Gold's Gym in Venice and we run individualized nutrition and exercise programs for people based on what their goals are. For example, some people have some medical concerns: heart attack, high blood pressure, cholesterol, diabetes. Other people are professional football players, basketball, volleyball, track or Olympic athletes, or skiers. They want an edge in their sport and they pay attention to their nutrition just as much as their skill and technique in their chosen sport, and then the majority of our clients who want to look like they jumped out of a fitness magazine or perform like they did when they were in college, but they have a normal job and life. We help them maximize their time and efficiency with their food and exercise for what their goals are.
Q: Do you use any set nutritional plan like a Zone Diet, or do you believe in carbo-loading?
CS: Diets muct be individualized, based on the person's history and that's athletic history, medical history, food preferences, body composition, time they can put into the exercise, so we adjust people's nutrient ratios, caloric intake, meal frequency based on their individual needs.
Q: So you don't have any quick Jenny Craig fix or other instant cures?
CS: No, because there is no such thing. Everyone who walks into our office has tried every diet program and quick-fix thing out there, and if those things worked, they would never have to do them again. They have lifetime memberships to Jenny Craig and Weight Watchers. They all have long and expensive dieting histories, and everyone's looking for the quick fix. The bottom line is that if you serious about what you're doing as an athlete as an amateur, recreational or professional athlete you have to take your nutrition and exercise and look at it just like you do your profession or career.
Q: Final question: What do you think of RailRiders clothing?
CS: I love Railriders for all different conditions. They're my favorite clothing for any kind of jungle environment. They're super durable, but really light. You don't even feel like you have the clothes on, but they cover everything that you need them to. You get wet constantly in races, and they dry out immediately. And the best thing about them is, you can wear them in interviews. They're super stylish. I can wear my Eco-Mesh shirt with jeans. It's a shirt that you can do anything in life in comfortably.
To reach Cathy Sassin at Intrafitt, her email is
cathy@intrafitt.com