Tagging Turtles in Trinidad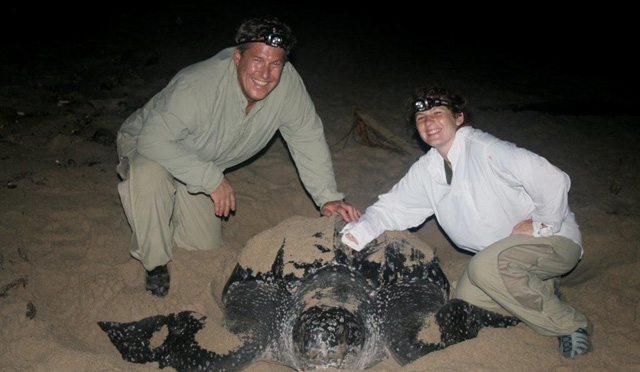 Despite its white sand and clear, blue water, Trinidad's Matura Beach used to be known as a bloody graveyard for leatherback turtles. The huge, gentle sea creatures were hunted for their meat and fins, and also for their eggs, which people valued as an aphrodisiac. By the 1980s, nearly one in three turtles that nested on Matura Beach were killed by poachers with machetes. Distraught over the killings, a local villager by the name of Suzan Lakhan Baptiste decided to take action and protect the slow-moving, defenseless leatherbacks. She patrolled the beach every night of turtle nesting season. and fended off the aggressive poachers. Mocked by locals who called her "Crazy Turtle Woman," Baptiste never gave up. Others soon joined her crusade, and in 1990, they started Nature Seekers, one of Trinidad's first environmental groups. The group was able to convince the villagers that turtles for eco-tourism could create a more sustainable income. "I wanted to show that a turtle is [worth] so much more to us alive than dead," Baptiste told CNN in 2009.
Today, the United Nations recognizes the beach that Suzan and Nature Seekers protects as one of the most important breeding grounds for the endangered leatherback turtle. During peak season, between 250 or 300 turtles journey to the beach each night. More than 5,000 leatherbacks nest in the area each year.
Interest in the valuable conservation work done by Nature Seekers is growing worldwide. This past summer, Tom Bosché and his 16-year old daughter Shannon traveled to Trinidad where they patrolled the Matura Beach and helped with scientific research. Tom sent us this email: "My daughter is very interested in marine biology, in particular dolphins, manatees and sea turtles. She wanted an opportunity to participate in scientific research involving one of those animals, so I accompanied her to Trinidad, where she assisted with leatherback sea turtle research under the auspices of Nature Seekers and Earthwatch. The research is directed by Dr. Scott Eckert of Duke University, and includes recording information on the leatherbacks that come onto the beaches each night to lay their eggs.
"First, the leatherbacks would dig a three-foot deep egg hole with their rear flippers over a half-hour, lay between 70 and 100 eggs over the next ten minutes, then spend another half hour filling the hole and camouflaging their nest site
before returning to the water. The eggs would hatch about 60 or 70 days later, and the hatchlings make their mad dash to the sea. Full-grown, these giant creatures can weigh up to a ton.
"Our participation included nightly beach patrols from 7 p.m. until 2 a.m. to locate and record the location of nesting leatherback sea turtles utilizing GPS coordinates, recording measurements of carapace and any distinguishing scars, deformities or markings, and tagging the turtles with identification markers.
"Each night, we walked the windy, dark beach in the high heat and humidity, frequently down on hands and knees in the wet sand taking measurements and attaching identification tags. Our uniform dress each night consisted of
RailRiders Eco-Mesh Pants or X-Treme Adventure Pants, with Equator-HT Tops or AdventureTops. Nothing could have worked better! They were extremely comfortable and allowed for easy movement walking the beach and when per-forming our research tasks. We frequently got wet from high surf or rain showers, but our RailRiders gear dried quickly. Although it is impossible to stay cool in the hot, humid jungle conditions, our RailRiders pants and shirts allowed for easy ventilation. The soft nylon material shed even wet sand in an instant, freeing us from what would have been long nights of chafing sand against our skin. Simply put, the RailRiders clothing is fantastic, and I would highly recommend it to anyone undertaking any type of outdoor activity."
For more information on Nature Seekers' work with the leatherback sea turtles, see their website at www.natureseekers.org.