The Arctic National Wildlife Refuge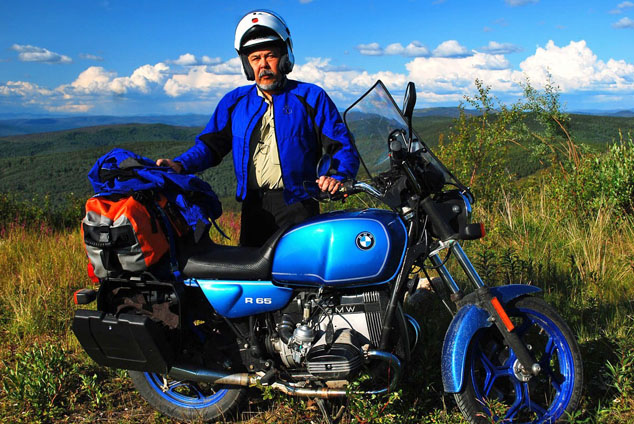 Managing The Arctic National Wildlife Refuge: Interview with Richard Voss
The Arctic National Wildlife Refuge is the largest and northernmost refuge in the National Wildlife Refuge System, and is located entirely north of the Arctic Circle in the northeast corner of Alaska. The refuge's manager is Richard Voss, whose administrative office is located in Fairbanks. RailRiders spoke with Richard in May; he had just returned from a wildlife study counting Dall sheep.
Question: How many rangers, scientists, and wildlife experts work within the refuge? And how do they typically get around?
Richard Voss: We have twenty-one full time staff and five to ten seasonal biologist/rangers. There are three single engine Arctic refuge planes: super cub, Cessna 185, Cessna 206. We also use rafts, canoes, kayak, and outboard zodiacs. And we hike a lot.
Q: Briefly describe the various habitats.
RV: The refuge is 19.3 million acres big, or about the size of South Carolina. It's a place where wildlife comes first -- no roads, trails, water-control structures. There are eight million acres designated as wilderness and three wild rivers. The five different habitat types are as follows: the Beaufort Sea coastal lagoons/barrier islands, the coastal tundra plain, the coastal foothills, the Brooks Range (northernmost extension of the Rocky Mountains), and the Boreal Forest/Yukon River country.
Q: How much time do you personally spend in Fairbanks as opposed to being in the field?
RV: I spend too much time in office and at meetings. My job is to run interference with government bureaucracy, so our staff can focus on protecting and conserving the refuge's landscape, fish and wildlife. I do my best to assist with at least one field project during each winter, spring, summer, and fall season. I'm less successful at that than I want to be. I've been the Arctic National Wildlife Refuge project leader since 1999. It's been an honor to be a steward of America's last great wilderness.
Q: What are some of your primary responsibilities?
RV: A lot of people think of the refuge manager is out in remote places satellite-collaring polar bear, caribou and ducks. While that can part of the job, it is no longer my primary role. We have full-time year-round PhD scientists for that. Today's wildlife refuge manager is really a people manager--of both the Arctic staff who must be effective and efficient with their time and the taxpayer's dollars, and of the refuge visitor who can explore and experience the adventure, solitude, and mystery of this place without loving it to death or impacting other visitors and native Alaskan villagers. I inform visitors about refuge resources, history and values while encouraging all to practice respect and restraint when in the wilderness, whether that is by brochures, briefing statements, interpretive talks, PowerPoints or issuing tickets.
Q: And when you are in the field?
RV: When I'm in the field with refuge staff, my job is tonot over-manage, do as I'm told, do not complain, or get in the way. Our people already know what they are doing. When I'm solo working, I complete my job assignment and try to stay safe and healthy, which in a true wilderness situation means focusing on the relentless pursuit of comfort.
Q: What was it like counting Dall sheep this spring?
RV: The Dall sheep counts are still ongoing. But it snowed, it rained, it blew, it fogged, it iced, it thawed, the sun peaked out. There was no mosquitoes, mosquitoes everywhere; bears in dens, bears in camp; river crossing were flooded, creeks were dry; lots of hot cocoa in base camp; froze my ass in one camp. The hike through the tussock tundra was pure hell; the hike across the Brooks Range ridges was inspiring.
Q: Do you prefer mud (summer) to ice (winter)?
RV: You can't have worked at Arctic Refuge for ten years and not be able to deal efficiently and effectively with 24 hours of darkness and -50F temperatures. However having said that, I prefer flowing water, and daylight and mosquitoes.
Q: During your wildlife surveys, have you had any close encounters with bears?
RV: The Arctic is the only National Wildlife Refuge where all three species of North American bears can call home -- black bear, brown bear and polar bear. I actually take comfort when traveling in this unique landscape that I am not at the top of the food chain because of these bears. Yes I've had up-close-and-personal encounters with all three species. No need to recount them. They are just that--personal. I've heard and read way too many sensationalized bear encounter stories over the last fifteen years in Alaska. One should just treat bears with respect and restraint, and be prepared to both respond and react immediately to their presence.
Q: Do you see a marked decline of polar bears due to climate change?
RV: In late September of 2004, the U.S. Fish and Wildlife Service counted sixty-plus polar bears around whale carcasses on the refuge. Last year we counted fewer than forty. One has to be very careful relating these isolated counts to overall population numbers. By using best peer review science, we can say the following: 1) Pregnant bears are increasingly selecting land over sea ice for denning, possibly because of deteriorating sea ice conditions; 2) bears have drowned in unusually large expanses of open water, and have been found dead in emaciated conditions; and 3), recent incidents of cannibalism among bears may be due to the nutritional stresses related to longer ice-free seasons.
Q: Have you had any encounters with wolves, or moose which can be unpredictable?
RV: In Alaska and Canada there have been many more "death by moose" reports than "death by wolves." Having seen both the "fierce enduring eye" of the wolf and the "wild crazy eyes" of a cow moose protecting her calf, I'm a lot more careful and fearful of a cow moose.
Q: What effects of global warming have you personally noticed?
RV: Some people say climate change, others say global warming, others say it's just a blip on the radar of time. The Inupiat people say the "Earth happens faster" and that their ability and window of opportunity to carry on traditional subsistence practices has been restricted and narrowed. I say it's real, it's here, it's now and happening every day. Robins which were previously rarely observed on the north slope of the Brooks Range are now frequently seen and for the first time successfully nesting and fledging young. Lynx are now observed hunting in the northern Brooks Range. The ice pack along the coast freezes up later and melts earlier. The resulting increase in open-water period combined with spring and fall storm events results in increased shoreline erosion west of the refuge's boundary. Winter icing events seems more frequent and lasts longer. They are extremely hard on wintering wildlife. Permafrost test boring holes we have been measuring for over twenty years indicate that the North Slope permafrost is warming and thinning. In the last ten years, I've actually watched the McCall Glacier in the Brooks Range recede before my eyes.
Q: Do you see a decline in the salmon population? If yes, is this due to over-fishing, climate change, or any other factors?
RV: TheArctic Refuge has spawning populations of king, chum and silver salmon on the Yukon River tributaries. While the salmon are so far up the Yukon that literally no sport fishing occurs, there is a thriving subsistence fishery by local upriver communities. Recent king salmon counts have been at record lows for several years. Changing ocean conditions, over-fishing, salmon "by catch" issues, and river runoff conditions are all having their cumulative impact. As a result, no commercial fishing for chinook salmon is planned this year. Subsistence fishing time will be reduced by fifty percent beginning about seven days after ice-out at Alakanuk, and follow the run chronologically upriver. There is no subsistence fishing on the first "pulse" of chinook salmon. Bag and possession limit for sport fishing in Yukon River tributaries (excluding the Tanana River) will be lowered to one fish.
Q: What is your own background, and how did you manage to end up in Alaska?
RV: I was born and raised in San Francisco, California. Spent four years as medic in the U.S. Air Force during the Vietnam War. Went to college on the GI bill. Graduated from Humboldt State University as a biologist. Worked for three division of the U.S. Fish and Wildlife Service as a biological technician, biologist, interpretive ranger, federal and state game warden, defensive tactic and firearms Instructor, assistant refuge manager and project leader. I've worked in the natural resource conservation field at sixteen National Wildlife Refuges (NWR) in seven western states including Hawaii and Alaska. I served as a technical advisor for the Office of International Affairs and International Crane Foundation in China, Siberia, Mongolia and Nepal. I transferred from Kauai NWR in Hawaii to Tetlin NWR in Alaska in 1994 and have lived the Alaskan dream for the last fifteen years.
Q: Do you work closely with the native villagers?
RV: I have always had an abiding respect for truly indigenous people across the world. They have one foot in the traditional subsistence culture and the other foot in the modern world. When I first came to Alaska, I was lucky enough to hunt, fish and walk with elders who actually firsthand remembered "life in the round" and moving place to place, season to season. They not only learned the 10,000 years of oral traditions of their parents and clan but still lived the hunter/gathering way. As the current generation adapts to a more sedate village life, the challenge it now faces is the same challenge we all must face -- living within our means as many tribes on finite planet earth.
Q: Ever been seriously trapped in a snowstorm or avalanche and think that is it...?
RV: No. But I've spent some uncomfortable nights in snow caves waiting for the super cub to fly in and pick me up.
Q: What was the most dangerous thing that has ever happened to you in the field?
RV: Let's see, there was the airplane crash into a remote riverside cliff during an aborted floatplane takeoff; the -40F winter caribou satellite-collar location flight in which oil from an hose leak obscured the vision out the front windshield; and too many late night "did you here that noise?" comments followed by getting up next morning with huge bear tracks between the tents. Actually, I like to think of these as adventurous experiences rather than dangerous, but then who am I kidding.
Q: What's it like now to have nearly endless days? How many hours of daylight?
RV: On June 21, the sun just circles around you, peaks behind a mountain and comes out twenty minutes later. Sometimes you wonder why you are so tired, refusing to believe that the sun still warming your shoulders at three am has anything to do with it. Because the sun rises and sets at such low angles instead of perpendicular to the horizon, you have plenty of time to capture the light on film or pixels. Since I'm also a hard-core adventure motorcyclist --I have three BMW dual sport bikes that are gravel and asphalt capable-- I sleep as little as possible and ride when I'm not fishing, photographing or working.
Q: What about the endless dark winters? How do you cope?
RV: Summer, fall and spring are outstanding times to be outdoors in interior Alaska. When late winter really sets in, it is a good time to be visiting the daughter and granddaughters on Maui. Actually, winter is best with my wife Katherine and visiting with good friends, sitting next to the woodstove with moose stew simmering, and taking turns playing whatever moves you on acoustic musical instruments. If it really gets bad, Katherine stays on Maui to spoil the grandkids and I pick a continent and ride. I have ridden 300,000 miles and still counting. Alaskan winters have taught me the difference between passion and obsession. Passion is dog-mushing through a moonlit, interior boreal forest at midnight and listening to the Aurora Borealis snap, crackle and pop. Obsession is caring for, feeding and cleaning up after thirty sled dogs.
Q: What's the best thing you like about your job?
RV: The Arctic Refuge's establishing purposes are "to preserve unique wildlife, wilderness and recreational values," which is an extremely unusual and simple statement for our government to make. And it is a perfect fit for me at this time in my life. Leading people who believe in what they are doing with all their heart and soul makes it a joy to come to work every day. To see "wilderness in-the-eye" of a solo thru-hiker just completing a four-week traverse of the Brooks Range keeps me grounded and focused on protecting the scale of this landscape.
Q: Finally, what is your opinion of RailRiders?
RV: I use them. I abuse them. Whether as the first and second layer breathing under my protective riding gear, or the only travel clothes I take on a hike, float, or fishing trip, they keep on working. I bought my first shirt and pants used at the Salvation Army. Four years later, I was still trying to wear them out. I finally gave up and bought more.