The Well-Centered Centerfold
Adventure racer Danelle Folta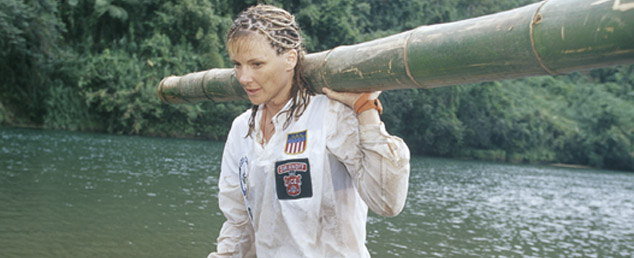 Looking good in front of a camera is one thing; feeling bad is another. With her body temperature redlining at 104° Fahrenheit, a sprained ankle turning ugly, and a tropical bacterial infection nibbling away at her other foot, adventure racer and captain of Team Smirnoff Ice Playboy X-treme, Danelle Folta, reluctantly surrendered to Fiji's Did Not Finish racing gods. She withdrew from the Eco-Challenge. It was Day Seven, and of the 81 teams that had started, the gallant gals were one of only 28 teams still racing. The always-upbeat, positive thinking Orlando, Florida resident is not a quitter, but there comes a time when even the most headstrong competitor must say no mas. (If it were any consolation to Danelle's teammates, Kalin Olson, Miss April 1999, Carrie Yazel, Miss May 1991, and their "token" male and studly navigator Roman Dial, only 10 teams officially finished this Crumble in the Jungle.)
After returning home to the Sunshine State, the April 1995 Playmate faced more storm clouds. The foot infection had turned septic due to blood poisoning. Cellulitis formed, and doctors feared that a partial leg amputation was a distinct medical possibility. Luckily, a regimen of antibiotics, skin grafts, and a monthlong hospital-stay saved the limber model's limb. "It was so surreal," says Folta, "just laying in bed all those days, watching Regis on television, and not being able to do much but surf the Internet and check my E-mail."
Will the picture-perfect 5'10" redhead ever return to racing? That's the plan, though her road to recovery is long and arduous. Daily hours of physical therapy and rehab are required simply to get proper motion and flexibility back into her foot to be able to run again. "I come from a running and marathon background, and not being able to run is just awful," she says with a nary a trace of bitterness or misgiving in her voice. She is no pavement-pounding slacker either, with a 3:38 personal best for the marathon. When training for Fiji, she was training six to eight hours a day. "I love racing," she said. "I will just have to carry Cipro with me whenever I do a race in the tropics again."
When she showed up at her first Hi-Tec adventure race in New York City, naysayers scoffed at this pinup's presence. She and her telegenic teammates received plenty of airtime, though competitors aired their own private resentment. In this era of hyper-reality television, veteran racers objected to this celebrity infusion of camera-friendly bods. Wasn't racing already reality-squared? But Danelle and her two teammates proved her detractors wrong, with second-place finishes in Detroit, Miami, and L.A.. They upped the adrenaline ante by competing in the Borneo Eco-Challenge in 2000. Team X-treme were, er, the real thing, They paddled, biked, trekked, rappelled, and sleeplessly slogged through leech-infested mud and muck just like everyone else. Special treatment or warm showers weren't offered nor requested. And because she and her racing sisters were so very nice and pleasant to be around, there was nowhere for jealousy to fester. Acceptance and respect replaced envy and disdain. These were bunnies who kept up with the hares.
Team X-treme is the brainchild of Folta, whose ultimate goal is to inspire women to get healthy and fit. The Team is comprised only of Playboy Playmates, and has over 25 members who compete in a diverse range of sports, including adventure racing, mountain biking, rock climbing, snowboarding and kayaking. They have participated in over 70 events, including the Gumball Car Rally, Playboy Online Volleyball Tour, Boarding for Breast Cancer and a 350 mile bike ride around the Big Island, Hawaii. They were voted sexiest team in sports by ESPN Magazine.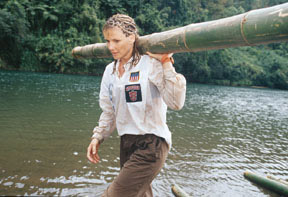 At the Fiji Eco-Challenge
The benefit of having so many La-Z-Boy eyeballs follow their every athletic move ensures the success of Team X-Treme as sponsor's dream. Television ratings receive an automatic testosterone boost. It's a case of show me the honeys. Still, there's a downside to this particular kind of exposure. As Folta explains, "We're constantly under a microscope. We have to be on top of our game all the time. So with the good, there's the bad." CBS's casting director for "Survivor" once approached Folta for an audition but she declined the invitation. "I'm not good at stabbing people in the back. I couldn't connive to get ahead of everybody. I wouldn't do well on that show." Her current project is to have a network pick up her own reality show called "Get it On,"Â which pits Team X-treme against weekend warriors. The proposal is currently making its rounds through Hollywood's power corridors under the auspices of the reality television production company Endermol.
The one foe (or reality challenge) constantly pitted against Folta and her teammates is sexism – which comes with the territory when you're known as sex goddesses. "We've all been addicted to working out for a long time, but I consistently run into people who are amazed that a Playmate can do anything athletic," Folta said in an interview with a mountain bike magazine.
Folta wants her team to debunk that ugly stereotype. "I decided that adventure races – where your nails get broken and your skin gets scratched so bad that you need full-body make-up to do a photo shoot a few days later – make an important statement."
Before she could make that statement, she first had to prove herself athletically. The going was tough in the beginning. "The first time I went mountain biking," she recalls, "it was four years ago in Mammoth Mountain, California. I wiped out and got a huge bruise on my thigh. I had a booking at Macy's the next day. I was so self-conscious. It took me one and one-half years to get back on a bike."
Despite her putting glamorous muscle and sheen behind Title IX empowerment, it's easy for feminists to grumble about how she got to where she is now. But that line of gender-based thinking does a disservice to Folta's intense commitment to sports. Just listen to the words of her Fiji teammate, Roman Dial: "She is athletic, very strong and tough. She twisted her ankle at the first creek crossing; it turned black and she continued to race. I just had to wrap it a couple times each day. She is capable, yes, and very smart. A good teammate. I think she's material for the top teams, though she needs more time on some events, but could race in the top 20 and maybe the top with the right teammates. She has a good attitude. She laughs at pain.' Laughter, yes. It's her open, lively, disarming laugh that puts people immediately at ease. So, we asked Danelle that one question lurking at the fringes of our prurient, inquiring minds: Ever considered racing in the nude? She laughed, of course, at this absurd notion, though John Howard's Kiwi team in Borneo actually raced in the buff during one miserable steamy-hot jungle section. For the record, she prefers wearing clothes – RailRiders. "At both Eco-Challenges," she recalls, "my teammates and I raced in RailRiders
Eco-Mesh Shirts
and
Eco-Mesh Pants
. We stayed in them for the entire time. We just love the Eco-Mesh Shirt. We didn't want to put anything else on, even if we did get a bit skanky around day six. In tropical environments, they dry almost as soon as they get wet. They are also very effective as sun protection."