Trekker Extraordinaire
Interview with Adventure Hiking Author Peter Potterfield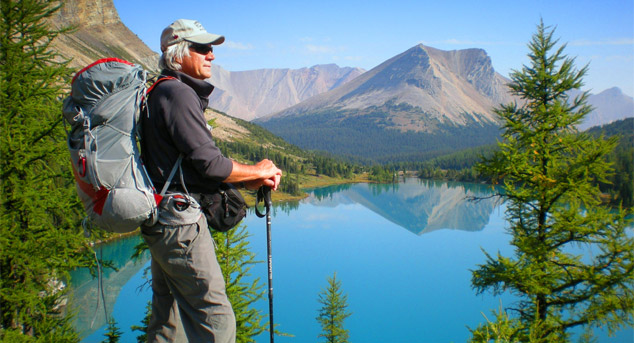 Walking is so underrated. For eons, this was how we went anywhere. Fortunately, adventurers in our midst like Peter Potterfield are able to bring many of these breathtaking treks right to our doorstep. His popular "Classic Hikes of the World " is a single volume of detailed information and spectacular photographs of twenty-three of the planet's most eye-popping walkabouts. A partial list of these beauts are: John Muir Trail, California; Wonder Lake to McGonagall Pass, Alaska; Tour de la Vanoise, French Alps; Kungsleden, Swedish Lapland; K2 Base Camp; Grand Canyon rim to rim; Mount Kilimanjaro; Cerro Fitz Roy, Argentina; and Shackleton's Crossing, South Georgia.
Potterfield , who has written several books, makes his home in Seattle where he's also the editor of GreatOutdoors.com. A great fan of RailRiders' Weatherpants, he is currently working on a sequel to "Classic Hikes." We briefly spoke with him several weeks before his departure for the Jordanian desert.
RailRiders
: You have been everywhere in the world. So let's start right in your own backyard. Have you climbed to the top of Rainier?
Peter Potterfield:
Yes, three times. One of my first book projects was "Selected Climbs in the Cascades, Volume 1 and 2." I couldn't have written those if I hadn't climbed the Cascades.
RR:
Do you consider yourself a climber or a hiker or are they personally interchangeable?
PP:
That's evolved as one goes through life. I used to just climb every chance I would get --Cascades, Rockies, Nepal, Patagonia. But after forty years of climbing, I find myself more interested in alpine travel--long backcountry travel. That's where my focus is now. My audience and readers have also gotten older. They're more interested in my suggesting to them where the best hiking routes are in the world, not so much climbing routes anymore.
RR:
"Classic Hikes" is like a must-do list for serious hikers.
PP:
I just try to encourage people to go to these places. I choose my hiking routes where I'm going to see the most outstanding scenery. There's a payoff in a lot of different ways. Just get off the couch and do some of these hikes; it'll make you healthy, spiritually, as well as physically. You don't need any skills; you don't need to be an athlete or a mountain climber; you just need to have a love of the outdoors.
RR:
How old are you, Peter?
RR:
How is the body holding up?
PP:
If you keep yourself fit, don't get overweight, and take care of yourself, you can keep this up all your life. I plan to be doing this when I'm eighty. I'm in good shape; I can go forever. I recently got back from a hiking trip in the Israeli Negev desert where we were going pretty hard in a really hot place just day after day after day.
RR:
How many hours a week do you hike when you're not traveling?
PP:
It's hard because like a lot of us, I've got to go to the office, I've got to spend significant time in front of my computer. But I still manage to get in a couple of hikes a week and probably four hours in the gym. That keeps me in good enough shape.
RR:
What are some of the "classic hikes" in the new book?
PP:
It's kind of a trade secret, but I'll give you a couple of them. One of them is going to be a route in Newfoundland in Gros Morne National Park, and it's called the Long Range Traverse. Fabulous route --thirty-five miles, no trails. It's all map, compass, and GPS work. It's very wild.
RR:
Any U.S. routes planned for the new book?
PP:
One of the American routes is going to be the Teton Crest Trail. I hiked that trail last summer. It's still one of the most beautiful routes in the west,
RR:
Did you see many people?
PP:
My strategy to avoid people is to go off-season. I went in early July. And that meant I had to take an ice axe, but I didn't mind. There was some steep snow on the way, but it wasn't a technical challenge.
RR:
You wrote about hiking to K2 base camp in "Classic Hikes". What was that like?
PP:
I'm not sure we want to encourage people to go there these days, but the way I did it and the way most people do it, is you start in Islamabad, Pakistan, and then most people take a Jeep or a bus to get to a small town called Skardu and that's where you start the hike from.
RR: Have you ever climbed K-2?
PP:
No, never have. K-2 is a really tough mountain. It's probably got the highest fatality rate of any of the 8,000-meter peaks.
RR:
Have you climbed Everest?
PP:
No, I've been on Everest, but I've never been to the top.
PP:
It ust never worked out for me. I don't feel bad that I haven't been to the summit of Everest. It may be even a lot more fun just to hike to Everest and to spend some time hiking around Everest. A lot of good friends are dead up on Mt. Everest right now. Scott Fischer is one of them.
RR:
He was the lead climbing guide whom Jon Krakauer wrote about in "Into Thin Air, "correct?
PP:
That's right. The year was 1996. I don't recommend people climb Everest unless they really have a strong desire, because you really take you life in your hands when you start climbing 8,000-meter peaks.
RR:
Have you had any close calls?
PP: Oh, yeah, sure. I don't think you can do this for as long as I have and not had some close calls. Most of them have come from climbing mountains where unexpected things happen like a rock fall or avalanche. You can't always be certain of those kinds of objective problems.
RR:
But in terms of hiking, have you encountered any dangerous, life-or-death situations?
PP:
No, I'm a pretty careful hiker. I've even extensively looked into the subject of fatal hiking accidents. Hikers somehow get injured on the trail; they break a leg - that's a common problem. The other one is that they get lost, and you can lessen that by being a good backcountry navigator. But by far the biggest problem that people have hiking is hypothermia. They go to places where they're not prepared either with their gear or psychologically and they get wet and then cold, then they can't get dry and so they get colder and colder and eventually die. All of these problems for backcountry travelers can be mitigated with preparation and experience.
RR:
Have you ever had a close call while hiking? Not climbing, hiking.
PP:
When I went down and repeated the Shackleton Traverse on South Georgia Island, we ran into some serious bad weather - the kind that can kill you. And we had to hunker down for a couple of days and finally, when we ran out of food and fuel, we just had to go for it in bad conditions. I guess you can call that a close call. We could have been in serious trouble, but we kept it together and we made the right decisions.
RR:
How many people were with you?
PP:
There were six or seven people on that trip. It's an expensive place to get to. You've got start by taking a trawler from Ushuai Argentina down to South Georgia Island. You get dropped off in King Haakon Bay, where Shackleton landed, then hike to the site of the old whaling station, Stromness. It's twenty-eight miles from Haakon to Stromness. You can do it in two, three days if it's not too cold or if it doesn't pour or snow on you or the wind's not too bad. It took us about 4 and 1/2 days to do it. But boy, it's really a beautiful trip. I just can't say enough about getting down to South Georgia Island and get off the boat and do a trip like that.
RR:
And how many days did it take Shackleton?
PP:
Shackleton and two of his guys from the ship, Endurance, made the crossing in about thirty-six hours. They climbed straight through and they had to go fast because they didn't have gear; they didn't have any equipment or tents in order to make encampment.
RR:
And you start at sea level?
PP:
Yeah. The highest point on the crossing was actually only about 3,500 feet. You're in these mountains that are 9,000-feet high. You're not talking a lot of altitude, like the Sierra or the Cascades, but when you're down there near Antarctica a little bit of elevation can really change the situation a lot.
RR:
Is a town still there on the island?
PP:
No. The old abandoned whaling stations are still there and there's a detachment of British Marines at Gritvyken, but you definitely don't run into any civilization while you're on the trek. At the old whaling station where Shackleton reached safety, there's nobody there; it's just a ruin. Pretty grim place, too. These whaling stations were not a luxurious place to hang out. It's so wild down there.
RR
: What are some of your favorite hiking lodges in the world?
PP:
There's so many good ones. You start thinking about Nepal and all of the great Sherpa lodges, so it's hard to say. But one of my favorites would be the Tonquin Valley Backcountry Lodge. It's up in the Canadian Rockies in Jasper National Park. The Tonquin Valley is maybe the most scenic hike in all of Canada; it was the first place Ansel Adams went as a Sierra Club photographer. By staying in the lodge you can be comfortable and take a series of outstanding day hikes in relative comfort, compared to camping.
RR:
How close is that to the Banff?
PP:
Jasper National Park is the next national park to the north. Another outstanding lodge, in fact, is near Banff and close to Lake Louise - and that's called Skoki Lodge. You've got a place to stay and it's rustic, but it's comfortable and you just do really world-class hiking day after day.
RR:
What kind of gear do you normally use?
PP:
I've got my kit pretty figured out. I've got to have the best gear in the world to do the kind of trips that I do. One of the things that I wear is my RailRiders Weatherpants. I find them to be truly exceptional. I generally use a MSR Hubba tent because I'm often going solo. Once you get as old as I am, you don't necessarily want to crawl in a tent with somebody you don't know/ I'll generally use an MSR Pocket Rocket stove on my travels. I like to get my fundamental gear down to under twenty pounds and then it's just a matter of how much you add on in terms of food.
RR:
What about a sleeping bag?
PP:
I've been using a Kelty Quasar sleeping bag, rated to about twenty degrees for most of my hikes, but if I'm going in high summer, I'll use an Integral design. It's a Canadian firm, they make something called an Andromeda Strain, which is about the size of a loaf of bread, and weighs about a pound and a half. And so again, you want to have a trade-off. Some people go super light. I think there's a point of diminishing returns --you've got to go light because you don't want to be a pack animal, but you really need to be comfortable. I like to be comfortable. So I don't mind carrying the weight and twenty pounds is not a big load.
RR:
What about water purification? How do you deal with that?
PP
: Life's too short to carry a water filter. I use water purification tabs -a chemical treatment. Portable Aqua. I've never had a problem and it keeps my pack weight down by a pound or more. The other thing you can do is just keep the stove on for a minute and let the water come to a rolling boil and then it's got to be safe to drink too. So, it's just a personal preference of mine. I have taken a filter and there may be instances where I'll take a filter again. One place where I do use a filter is in Buckskin Gulch in the Escalante Staircase National Monument in southern Utah. Buckskin Gulch is one of the most beautiful slot canyons in the world, but the water passes through agricultural land with cows, before it reaches the national monument. So you definitely want to treat that water and filter that water.
RR:
And finally, what about footwear?
PP
Footwear is probably the most important piece of equipment. If you're feet hurt, well, you're just not going to have any fun at all. So on my feet I'm pretty particular. People who hike a lot understand that not every pair of boots that you buy are going to work. You're going to have to be prepared to try out a pair of boots and give them away if they start to hurt your feet. Lately, I've been working with a combination of the Bridgedale socks and either Las Fortiva, Echo, or Oboz boots. I've had good luck in recent years with those three brands of boots and my feet never bother me. I never have to put on moleskin; I never get a hot spot. These boots are so light and they protect your feet so well that they don't feel like an encumbrance. I remember the old days, back when everybody wore those big-ass hiking boots that weighed like five pounds each. It really increased the effort. But the boots made by the top boot companies are so light, so good, so comfortable that that's the direction I go in. I keep my eyes peeled for the best I can find and stick with them. I'm really careful about boots and I think every hiker would be well-advised to try out a lot of different kinds of boots and once you find a pair that fit, buy two or three of them because when you want to get them next year, they won't be the same.
RR:
Ant final words about RailRiders?
PP:
What first alerted me to the company is that they were the most incredible pants I ever wore. I do a lot of international travel and I could come right out of the backcountry with a pair of black RailRiders Weatherpants and you couldn't see the dirt or anything. I could just go right to the hotel without even having to change my clothes. I also wear the Adventure Top because it's an outstanding backcountry shirt. It also looks good enough when you reach civilization.
RR
: For 2010, what are going to be some of your hikes?
PP:
I'm going to spend about three weeks hiking in Jordan. Wadi Rum is one of the most beautiful canyons anywhere in the world including southern Utah. I'll also go to the Petra, the famous city carved from canyon walls. I'll later be doing a hike in the Wind River Range of Wyoming. And then I'm going to Switzerland to do some hikes around the Eiger. It's one of my favorite areas around Grindelwald. I'll finish up the year in September going to Arctic Sweden. There's a 400-kilometer route called Kungsleden that traverses the Arctic Tundra in the mountains of Sweden.
RR:
You're going to do all 400 kilometers?
PP: No, I'm not. I don't have the necessary chromosome you want to do all of anything. I try to do the best parts of it. I'll do the northern-most hundred kilometers. There's a mountain lodge up there--the Abisko Mountain Station. It's a great place to start your hike in Arctic Sweden. September is really a beautiful time of year to go. It can be cold and snow can fall, but normally, the conditions are perfect for hiking and you get the Northern Lights. It's this great expanse of wild place with nobody in it. So it's good. I live to hike now. It's kind of what I do and I just to try to find the prettiest places to do it.