Walking Across Mongolia - Step by Steppe
Interview with Ripley Davenport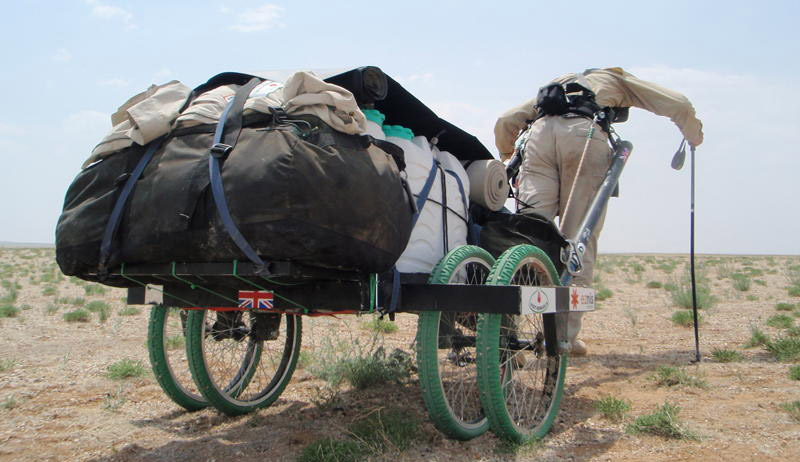 There's no denying that the world is a crowded place, with the global population hovering around seven billion, but don't tell that to British explorer Ripley Davenport, who recently trekked 1,000 miles across the barren, eastern steppes of Mongolia and the Gobi desert. It was his intention (read: obsession) to become the first self-supported individual to traverse the landlocked country that is sandwiched between Russia and China. His long walk clearly redefined the term "self-sufficiency" for the simple reason that he towed all his supplies in a wheeled trailer; its quarter-ton weight made walking extremely difficult over the brutal, unforgiving terrain. Fifty-two days into his trip-- and 700 miles shy of his final destination-- a nasty fall and ankle sprain required a medical evacuation, forcing him to quit. But Davenport, 40, who lives in Denmark with his wife and two kids, is not the kind of chap who easily surrenders. He's already planning a return trip to Mongolia next year...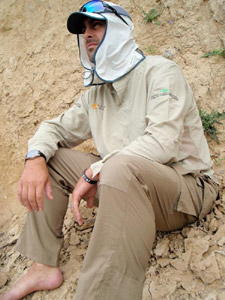 Davenport is an experienced hand at lengthy solo treks. In 1998, he completed an 82-day camel crossing of the Namib Desert in south-central Africa. Four months later, he crossed the Karakum Desert in the sub-Sahara, another remarkable endurance feat that lasted almost four months. He even spent time living with the fiercely independent, nomadic blue-turbanned Tuaregs, a rare occasion and privilege for any Westerner.
If desert travel is encoded in Ripley's DNA, he's always been one to mentally and physically push himself, to test the human body's outer limits of exhaustion and fatigue. He's always kept in superb condition. In the 90s, he served in a special forces unit of the British Royal Navy, and when he left the military, he successfully completed courses as an EMT Medic, and in advanced wilderness survival.
Through Florida endurance athlete Matt Nelson and the Endurance Trust, RailRiders had the good fortune of outfitting Davenport for his 2010 Mongolian expedition. Following his return to Denmark, here's what he said about the clothes: "I am rarely impressed, especially when it come to clothing, having been let down in the past with poor quality and shabby products, but RailRiders really does stand up to 'being the toughest clothing on the planet.' I can do nothing but highly recommend your products and spread the word from this day forth. I will take an oath that from this day forth that I will wear nothing on my desert expeditions other than RailRiders and promote the brand with my seal of approval."
Now for our interview with the Desert Solitaire.
RailRiders: Why did you choose Mongolia for your latest trek? What drew you there?
Ripley Davenport: I have always been spellbound by Mongolia and its culture. I wanted a country that could offer a variety of landscapes including a desert environment. Mongolia was on that short list. The very word "Gobi" summons a variety of images for many people and it holds a special attraction. And because I have a fanatical interest in steppe and desert regions, Mongolia seemed the perfect location, and so I immediately solidified my plans to carry out the walk, spanning the Mongolian Steppe, Gobi Desert and Altai Mountain Range, a mixture of raw and beautiful backdrops. Mongolia is also the most sparsely populated independent country in the world. It is also the second-largest landlocked country after Kazakhstan, in the heart of Eurasia, the greatest terrestrial mass on the globe. It is the sixth largest country in Asia and the eighteenth largest in the world occupying a territory of about the same surface area as France, Germany, Holland, Belgium, Spain and Portugal combined. The suggestion of crossing Mongolia on foot seemed already firmly established in many people's minds as either some extremely challenging feat or absolutely bonkers and meaningless. And yet how many people had actually done it? I decided to walk every step of the way from one end of Mongolia to the other, east to west, completely alone: no assistance from the outside world, no backup, no support team, no one to carry my gear and no film crew.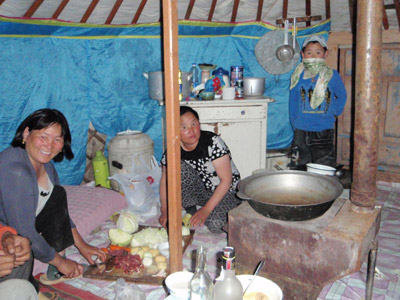 RR: How did you physically prepare yourself for the trek?
RD: I have been fortunate. Most of my life, I have been energetic and enjoyed exercise. The military introduced me to actual pain and suffering, which I discovered later and came to enjoy and relish. I understand so much about my body and its capabilities after being placed under such strain and physical demands. The physical training started way back in the fall of 2008, but even before then I was always working out. I gave myself ample time to get conditioned both mentally and physically for this expedition. I believe in taking things slowly and never overexert my body. Yet getting fit was one of the cheapest parts of any expedition – running, walking, mountain biking, pulling old car tires, yoga and lifting anything heavy. I never entertained any illusions since I knew Mongolia would be very physically and mentally demanding, and getting fit and staying motivated was the only solution. A customized workout program was molded together, which mirrored the type of activity I would be doing in Mongolia. Simulating some activities (like walking and tire pulling) was easy enough but there is no substitute for getting outside and experiencing genuine conditions - wind, rain, snow, mud and a full backpack! In my opinion, it's no good doing training in a nice, well-furnished and air-conditioned gym for a desert expedition, surrounded by flat screen TVs and lively music.
RR: What about mental training?
RD: The mental challenges of this expedition were continuous and extremely magnified. Besides being away from home and family, I had to adapt positively to the daily stress and risk of walking through the desert and to a great deal of discomfort. It is the mind that keeps the body going. It's that simple. I consulted with many psychological experts, fellow explorers, and adventurers on this topic and the key points are: a positive vision, meticulous attention to detail, and absolute belief in oneself.

RR: How much ground did you cover each day?
RD: Well, this wasn't a race. I felt, based on my condition and previous experience, that 35 kilometers was a fair day, but this all depended on many factors and terrain. If I didn't make this quota for some reason then that was no problem. That day would have to have its reasons. A quote by Reinhold Niebuhr is one I like: "God grant me the serenity to accept the things I cannot change, Courage to change the things I can change, And wisdom to know the difference." I didn't stress about any lack of distance as the important thing was always to keep moving forward safely. My worst day was 12 kilometers and my best day was 49.8 kilometers. My daily average was 31 kilometers.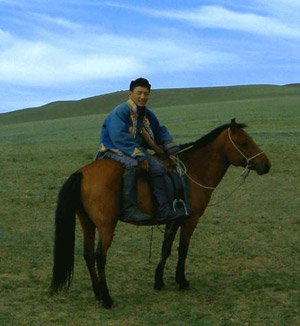 RR: Describe the terrain.
RD: The terrain was a mixed assortment ranging from the flat, hard pancake surface of the Gobi desert to a Mars or Moon-like surface littered with rocks the size of basketballs. The sand came in a variety of forms --hard sand, quicksand, fine powdered sand and soft sand. I was regularly plagued with ditches, washes, gullies and potholes throughout the walk. I lost count how many times I loaded and unloaded Molly Brown (my name for the trailer).It was simply impossible to haul Molly's weight up and out of these craters and trenches as the sides were just too steep. It was tedious work. Steep mountains and hills were another regular obstacle in the Steppe and Altai Mountains. The human body is not designed to haul 250 kilograms in 35C to 40C degree heat. Without doubt, it was the hardest thing I had ever done in my life. Gravity really works against you and leaning over at a 45-degree angle most of the day, almost kissing the dirt, trying to gain a good foothold in the dust and fine stone. So for many days, I pulled the trailer up and down hillsides and mountains, across soft sand, through unbearable heat, against headwinds into sandstorms and thunderstorms that crackled the air. Even though I was in top condition and trained hard for this, nothing could prepare me for this actual event. My 40-year-old body found it hard to maintain this tempo.
RR: What was it like to pull a trailer that weighs close to a quarter-ton?
RD: Brutal. It's like pulling the devil's company car with square wheels and the brakes fully pressed. I cursed the air blue every day and often kicked and punched the air in frustration. The trailer weight, at times, took its toll on my body and mentally; it was destroying me even though I was a pioneer in this form of travel over such distance and terrain.
RR: What did you eat in a typical day?
RD:
After being refused by an endless number of expedition food companies, I decided to make my own menu and I am glad I did. My wife and I worked hard to prepare and pack my food. I calculated my food to the nearest crumb and nothing was left to waste or chance. I estimated that I would need around 4.000 to 5,000 calories in order to haul and walk some ten hours a day. Even with this I expected to lose weight over the course of the expedition. Indeed I lost 8.4 kilograms, which is about 18 pounds.
For sustenance the three main 'food groups' for the journey consisted of fats (salami, nuts/seeds, cheese/butter), sugars (chocolate etc.) and carbohydrates (noodles, rice, couscous and oatmeal). Breakfast was High Energy Porridge (HEP) pre mixed with full cream milk powder, brown sugar, grounded digestive biscuit and nuts with olive oil complimented by a cup of coffee or tea. For my morning tea break, I had a sesame bar, dried fruit, mixed nuts and raisins, olive oil and chocolate, which melted into a mush! Lunch was porridge pre-mixed with full-cream milk powder, brown sugar, grounded coconut and digestive biscuit and olive oil. Afternoon tea was two flat breads with copious amounts of peanut butter and a cup of soup. Dinner was cous-cous or noodles with herbs and spices with additional freeze-dried meal and olive oil with a cup of hot chocolate and biscuits. I also took one multi-vitamin supplements), calcium and vitamin C tablet per day. For emergency, I carried a "state of the art" water filtration system from HTI Water, which allowed me to replenish his water resources, safely, at a few watering holes and wells along the route, if needed. My total daily intake of water was four to six liters.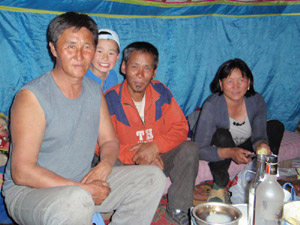 RR: What was your interaction with the locals?
RD: I was overwhelmed. I was in awe and totally at ease around them. In a nutshell, the Mongolians are warm, kind, and the most tolerant people I have ever met. They excel at hospitality and the Western world can learn a thing or two from them. They are also incredibly resilient and practical. I loved being around them and one thing I learned is to keep my mouth shut and forget the West. I was a magnet for information and observed with eager eyes. I will never forget one incident when an old man came riding towards me, dressed in the full traditional clothing and worn hat. The saddle was decorated in wonderful emblems and woven material and his horse were so majestic and strong. He was so handsome and radiated a glow that you never see in any western movie or circus show. His smile enlightened his face and the facial wrinkles folded his eyes into small slits. He stepped of the horse and approached and held out his hand. We sat in silence for some time admiring our transportation and communicated in a primitive language of pictures and frantic hand signals. It was an intense and extremely emotional meeting and one I will never forget.
RR: What was the typical Mongolian reaction to what you were doing?
RD: Mongolians show little emotion or feelings, especially to strangers so that was hard to measure. But they always acted as if they had seen this a million times before.
RR: Did you ever sleep in their shelters?
RD: Unfortunately, I was never invited but I am not sure, given the invitation, if I would of accepted. The ger is their home and shared by all members of the family and sometimes close friends. So space is limited. I think it's a fine line to cross and Westerners tend to step over many cultural boundaries. I tried to absorb as much of the Mongolian traditions as possible, but it is very difficult to live, as a Westerner, by them all. Sleeping in a ger was not on my list and I wanted to live by that rule. I had my own tent and sleeping next to their gers, on their land, in the surrounding that Mongolia offered, was enough to satisfy my desire. I know that many Westerners do sleep in these "tourist gers" that are especially made to lodge those who want to experience that way of life.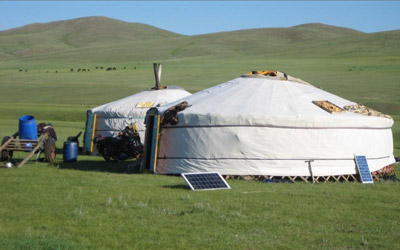 RR: What were some of your emotional highs?
RD: There are a couple of high points and one would certainly be on the plane heading to Choibalsan in eastern Mongolia. All the preparation had finally come together and I was about to attempt this walk. It was all very emotional and I am glad I sat at the back of plane with no one to see my joy and release. Of course, another high was returning home. I don't need to explain why that was a high but it was a very emotional and blissful moment for the entire family.
RR: And emotional lows?
RD: There were so many lows that it would be hard to pinpoint any particular event. I believe that the lows were actually a positive thing and it was throughout those lows that I learned some significant lessons. They were turning points in my career as a desert explorer. I become stronger and wiser because of these low points and will, no doubt, always make miscalculations and mistakes and experience more lows than highs. That's the game plan!
RR: Did you see a contradiction in being deliberately and geographically isolated from civilization yet technologically connected to the outside world via your sat phone and laptop?
RD: Not really. For safety it was paramount and communication was mainly one way. Home base tended to all the correspondence and conversation with my family was limited to just one minute per day, which isn't much but enough to send a message of my condition. We live in a shifting world and we have gone far beyond the absolute isolation of exploration and if we can communicate our findings and experience, in near real time, to the outside world then that's a respectable thing for those that actively follow the expedition. Most nomadic Mongolians have cell phones!
RR: What are your plans for future desert expeditions?
RD: I am returning to Mongolia next year. That's how much the country had an impact but this time the expedition is different. This next expedition will be an attempt to traverse the entire 1,000 miles of the Mongolian Gobi Desert, the fourth largest desert on earth, on foot and by using a traditional method of desert transportation: the Bactrian camel. I hope to guide a team of ten people as well as produce a documentary film. The chief purpose of this expedition is to strengthen the cultural divides and document and illustrate their indigenous lives, far removed from our own, and who have proudly continued their way of life regardless of the encroachment of invading globalization. There are eight places remaining for this trip.