Wild at Heart
National Geographic Filmmaker Ventures into the Congo

His television career has aptly followed a serpentine route. As series producer for "Reptile Wild" for the National Geographic Channel, filmmaker, producer and writer David Hamlin began penning scripts for Sesame Street while pursuing a degree in education from Dartmouth. After later picking up an MFA in filmmaking from USC, he went from working with Big Bird, Grover and Cookie Monster to filming man-eating crocodiles, poisonous snakes and giant lizards. With his background in whitewater kayaking, rock climbing, and competitive skiing, he prefers the outdoors, so it was easy to make this transition from cuddly TV studio puppets to cold-blooded predators lurking in the bush.
From 1996 to 2001, he was writer and producer for National Geographic Explorer, a stint which won him an Emmy and took him to earth's most inaccessible regions to report on endangered species, fragile ecosystems and adrenaline junkies. He has filmed camel racing in Dubai, molten volcanic fury in Iceland, monitor lizards in Sri Lanka, big wall climbing on Baffin Island, K2 alpinists, alligators in the Everglades, tundra life near the North Pole, and chimpanzees in Tanzania where he profiled their legendary caretaker and world-renowned conservationist Jane Goodall who is often called "the planet's conscience."
During the Goodall filming, he came across two unexpected visitors. "We were walking through this stuff called elephant grass which is your lawn on steroids and is about seven-feet high," says Hamlin. "So you fit your arm in it and it disappears. It's dense grass that's completely thick. We were walking on an elephant trail. I was the fourth in a line of five and this black mamba whooshed right behind my head. We all ran forward, then the lead guy said, 'Stop! Cobra!' With a cobra in front of us and a mamba behind us we just froze and waited for them to pass."
It's not always reptiles that cause fright. "On one Congo trip," recalls Hamlin, "we landed at a bush airstrip in the middle of nowhere and about 30 twelve-year-olds came running out of the forest, all holding homemade guns and automatic weapons. They surrounded our plane, but luckily, one of our local contacts said, 'These are the good kids, they're here to protect you from the bad kids.' "
Then there was that vertigo-inducing episode in a Russian biplane. "We were trying to fly across the North Pole from Alaska to Norway and were about 87 degrees north. The plane started leaking fuel and oil, and the oil was going on the windshield and the gas reserve tank was going down and that's when I thought, 'I'm going to bite it.' We diverted to a runway at Mould Bay which is the largest island in the western Canadian Arctic, and where its four residents all live at the weather station."
Last summer, Hamlin reconnected with the still-energetic Goodall, who is 67-years old and travels almost 300 days a year giving lectures and lobbying government leaders, and with fellow superstar conservationist Mike Fay, who had once walked 1200 miles across Central Africa to call attention to Africa's dwindling forests and wildlife. (In the past 100 years, the population of chimpanzees has decreased from two million to about 150,000.)
This time the locations for the National Geographic documentary were at Goodall's Tchimpounga sanctuary for captive chimps and at a remote woodlands nature reserve in Northern Congo's Goualougo Triangle, run by the Wildlife Conservation Society. "The Goualougo Triangle is one of the last unspoiled wilderness area left in Africa," Hamlin says, "and home to many animal species, such as wild chimps, which haven't learned to be afraid of humans, and yet, this pristine region is being threatened by mining, logging and bushmeat trade. It's a race against time to preserve Africa's last untouched forests."
Hamlin lives in Washington, D.C. with his wife and two sons, ages six and three. He had contracted a virulent strain of malaria during his monthlong Congo expedition. "I was in the hospital for nine days," he recalls. "It was the sickest I've ever been in my life, and I still have some paralysis in my right arm." But the illness failed to impede his post-production involvement with "The Last Wild Chimps," which premieres on National Geographic Explorer on MSNBC in April.
"Whenever I travel to tropical environments, I wear RailRiders," says the intrepid adventurer behind the camera.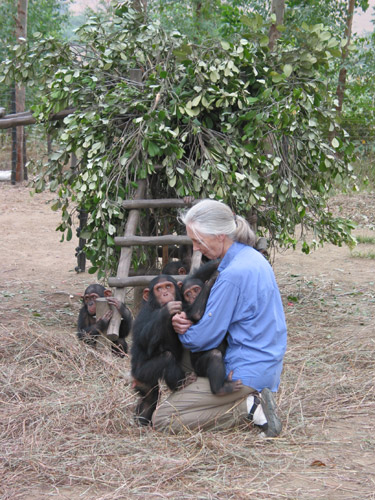 Jane is often called the "planet's conscience."
We were curious about what it was like to be in the company of Ms. Goodall, who is also a National Geographic Explorer in Residence. Here's Hamlin's view: "She is by far the most inspirational conservationist and individual I've ever met. She is as advertised. There is nothing fake about Jane. She is completely honest and truthful and graceful and committed and an absolute hero for me and anyone who's blessed enough to meet her.
"She is the conscience of us all in so many ways, and she's a powerful and graceful spokesperson for the planet. For our children, she would argue. Jane is very committed. She is so much more than chimpanzees. That's a very important thing. Chimps are what brought her to the world's attention. But in the 1970s, she made a real change in her own vision of her life and her role when she realized she had to stop being a full-time primatologist and basically become a full-time activist in defense of the natural world and of the defense of the animals under siege, particularly chimpanzees and other primates."
We had one final question for Hamlin: What's it like to be a Westerner to travel with the Pygmies? His reply: "In the Central African forests, there's no other way to travel, though it's actually a derogatory term to call them Pygmies. These people are known as "the people of the forest" and belong to several tribes. They have a unique dignity and strength that in many ways we, 'people of the concrete', have lost. They are the experts. They've lived there for countless centuries. These are the folks who know how to survive in these woods and therefore know how to keep you alive in these woods. I would be lost in about five seconds if I wasn't with them. What you're walking on in these woods are mostly a network of elephant trails that many other animal take advantage of, including humans. These trails are a maze, a honeycomb of bent-over trees, vines and tracks. But if I didn't have these forest people with me to know where to go and how to navigate, five minutes out of camp, you never would have seen me again."
For further information go to
www.janegoodall.org
and
www.nationalgeographic.com