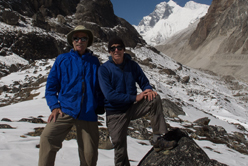 23 Days in the Himalayas
Phil Parkinson (Rio Rancho, NM, right), and Mike Alltucker (Springdale, UT, left), high on a ridge above Makalu Base Camp (Nepal) with Lhotse and Everest (Kangshung Face) in the background. With the help of an amazing group of Sherpa guides and porters, Phil and Mike trekked 23 days in the Himalayas to a camp at the base of Mt. Makalu (5th highest peak) encountering sweltering heat and humidity, plenty of rain and wind along with snow and ice at high altitude. The Weatherpants and Adventure Tops performed marvelously throughout the trek, showing little wear at trails end, easily outperforming their owners. Outstanding Product(s)!
---
Briers at the Barkley Marathons
Charlie Taylor, Gallatin, TN
Last month I wore my new Bushwhacker pants in the Barkley Marathons, a 5-loop, 100 mile footrace with a 60 hour cutoff in the Brushy Mountains in East Tennessee, wikdely acknowledged as one of the toughest footraces on earth. In addition to the 14,000 feet of climb per 20 mile loop and mostly off trail, the Barkley is famous for the Sawbriers, a long vine covered with long briers that will cut the skin like a knife. When I came to one of the many Sawbrier infestation, wearing my Bushwhackers, I took the most direct path through the briers while many runners went around them. After my failed 10 hour attempt at loop one, my Bushwhackers looked like new and I had zero brier marks on my legs. Thanks RailRiders! I will forever be a customer.
---