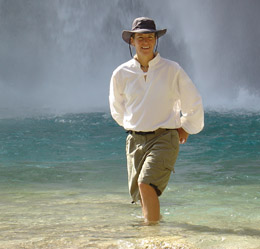 Adventurous Shirt!
Dixie Patterson - AZ
Hey John, Hope you enjoy the photos half as much as I enjoyed wearing the shirt! I look forward to getting the other 2 shirts I ordered! I'm looking for adventurous things to do just so I can wear the shirts! I just finished Ironman Arizona and wish I could have worn your shirt there! Cheers!, Dixie
---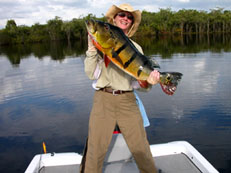 Nothing Fishy about RailRiders
Nicole Boand, Silverdale, WA
"My husband and I belong to a lodge down in the Amazon, Brazil where we fish for peacock bass every year. The world record peacock bass was 27 lbs. I have several fish over 23 lbs. with my largest 26 lb. Fishermen down there are frequently from the Southern states. Many have been intrigued with our RailRiders gear. We see a great deal of other brands. but We have found nothing better for this part of the world and the fabrics you use are quite repellent to fish smell and blood."
---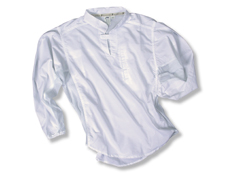 Beating the Desert Heat
Mary Gorski, Milwaukee, WI
It was not a dark and stormy night. Instead, it was a "balmy" 115-degree morning, with the sun shining, and temperature still rising. Warm, yes! But wilting -not And why? Because I was wearing my brand new RailRiders' Eco-Mesh top. This was my first item of RailRiders'clothing and it was purchased in preparation for crewing a runner at Badwater - a 135-mile run that begins in Death Valley (at Badwater) and goes along a sweltering, sand-swept blacktop to Mt. Whitney. This year, our crew experienced temperatures as high as 129 degrees Fahrenheit. A meat thermometer stuck in the ground measured at 152 degrees. And we knew the blacktop was even hotter - hot enough to literally put a frying pan on the road and fry an egg. It was my first experience in such heat - beyond an indoor sauna. I thought it counter-intuitive to wear long sleeves - wouldn't they be hot? But fellow crew mates insisted, and so I got the Eco-Mesh Shirt And gosh darn it if they weren't right. Uncovered, my arms just sizzled in the sun. With the shirt, it was still warm, but quite a bit more tolerable. Yahoo!!!! I am a RailRiders convert. I love the shirt. In fact, everyone on the crew loved my shirt and wanted the web link to order his or her own - including the medical director of the race who was ecstatic to learn that you had small sizes (she and I are both around 5 feet tall and have a hard time finding good clothes that fit)."
---