Photographing Vineyards
Interview with San Francisco Bay Area Photographer Paul Kirchner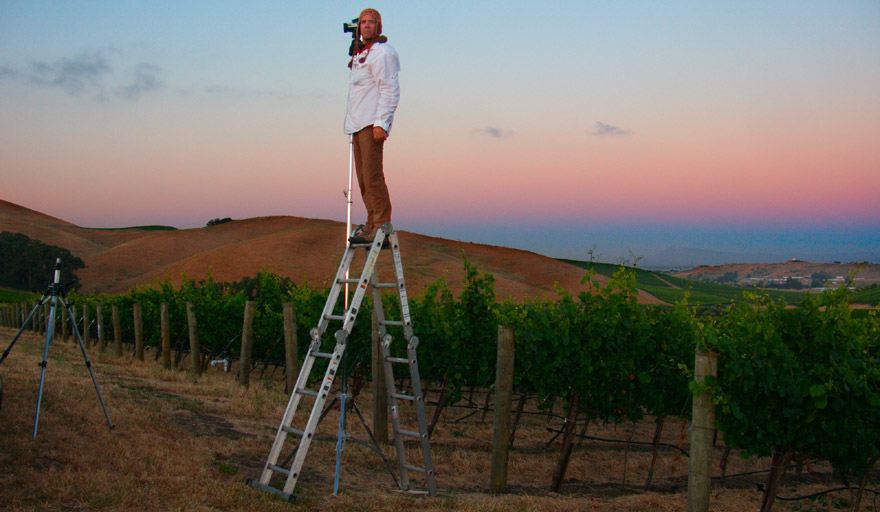 Paul Kirchner mainly shoots still life in his studio, but he often spends a lot of time outside on assignment in vineyards. He explained: "I have worked for the oldest wineries in California to the newest, mainly in the Napa, Sonoma, Russian River Valleys and the Central Coast region. From wineries that put out a few thousand cases per year to ones that produce millions of cases per year. Two to three times a week found me before dawn waiting for the light somewhere and again later on waiting for the sweet light of the sunset. Some of the Napa vineyards are way back in the hills surrounded by the densest of brush and stickers and thorns, some are on the valley floor in more controlled situations.
This sort of shooting can be rough on equipment and clothes. I wanted to wear things I didn't have to baby, would not shred when forcing my way through a few hundred yards of the stickers, would be cool in the afternoon heat, had plenty of pockets for stuff and be presentable for the fancy restaurants of Napa and still look good. I tried to destroy the Rock Jeans but failed. With the Expedition Shirt, no rips, no tears, no stains from six months of work."
RailRiders: How long have you been photographing vineyards? And what got you started here?
Paul Kirchner: I've been shooting them seriously for six years or so. I am mainly a studio still life photographer and had been shooting bottles and food for a particular winery for years when the director of marketing asked if I wanted to spend a year photographing their vineyards. Photographing the seasons and the changes the vines go through each year. From bud break in the spring to veraison when the grapes start to change color to harvest to autumnal colors to leafless vines in the winter. I hadn't really done that sort of thing before but it sounded like a sweet job. The director of marketing had always given me free rein creatively in the past and since I didn't know what I was doing I just shot whatever interested me. I tried to forget it was a paying job and that's the key I think. Let go of expectations. A wine label designer saw what I had shot and thought it was unique and different than the other stuff he had been seeing over the past 25 years and started to recommend me to other wineries. And so it began.
RR: What is the best time to photograph vineyards, and why?
PK: I work in two periods per day only. I only shoot right when the sun is coming up and about an hour or so after and about an hour or so before the sun sets and maybe 45 minutes afterward. If there is some sort of weather happening though the schedule changes. It's all about light. A lot of the vineyards are on flat ground and as I often say it's like trying to shoot a cornfield and make it interesting. Having beautiful light makes ordinary scenes into spectacular scenes. The light that happens early and late reveals contours and textures, shapes and forms. It just draws things nicer. The color of light is more interesting then also, and the contrast between highlight and shadow is lower.
RR: What do you look for when capturing on film a vineyard?
PK: It's pretty easy. I look for compelling patterns, interesting lines and shapes, contrasts of various elements. On flat land often the only thing of interest is the surrounding-- the hills or trees in the background. On hilly vineyards it just about photographs itself. I also look at these things in relation to where the sun will be during my two periods of shooting.
RR: What about wildlife? What have you seen?
PK: I see lots of birds and jackrabbits. Birds love to eat the grapes so they're always flying around, and along with the move to sustainability many wineries are putting up owl boxes around the perimeter to control the animals that eat the grapes, I see quite a few of the owls. In the morning you wouldn't believe how many jackrabbits dart around, running around through and under the rows. Many of the vineyards in the more exposed places are fenced in to control deer and wild boar from coming in so those sightings are less common. One morning I was sitting on my ladder waiting for the light and I saw a coyote loping toward me in the row where I was sitting. He must have had something on his mind because he didn't see me at all until he was right on me. A few feet away he stops and looked up at me. We looked at each other silently; he sort of shrugged and took off again going in the same direction. After he topped a little hill he stopped and turned around and stared at me for a while. He was so nonchalant about the whole thing while I myself felt like something special had happened.
RR: What has been the most amazing thing(s) you have experienced while photographing vineyards?
PK: I think it's less of a special moment or moments and more like it's a whole experience. I get paid to watch California sunrises and sunsets and since I only shoot alone I feel like the whole thing before me is painted just for me, like I'm the only person in the world that's seeing this right now. Sometimes it's almost too much beauty, too special. Light can be so nuanced that it can't be fully shown to someone else by any other means then by standing there and looking at with your eyes.
RR: Do you ever interact with the workers in the fields? And do owners come out with a glass of wine and talk with you?
PK: I have photographed many a harvest, trying in vain to follow the workers as they cut the clusters off and drop them in the bucket at the feet. Unless you have seen it you cannot believe how hard and how fast these people work. It is backbreaking work on level ground let alone on the hillsides. I've tried. On breaks they have loaned me their curved knives and shown how to cut off a cluster. Sure it's fun for three minutes but to do it for hours, bending down cutting, picking up a full basket of grapes and running to catch up with the tractor so you can dump your load? A lot of grapes are harvested mechanically in the bigger fields but if you're drinking a bottle made from grapes that were hand-harvested make sure you tip a glass to the worker because he put some sweat and toil into it. I drink with the owners all the time. I have worked for many different types of industries over the years, from the high tech companies in Silicon Valley, to oil companies, to communication, banking, and fashion companies and everybody else and there isn't a more fun, laid-back industry as the wine industry. Many of owners are really just farmers and they are as down to earth as is any other farmer. Others have made enough money to know that it's all about enjoying what you have and both groups seem to have one thing in common….it's time for a bottle of wine!
RR: What are some of your favorite wines? Describe what you like about them?
PK: Well I'm no wine snob, not by any stretch of the imagination so the best way to say this is that my favorite wine is what is in my hand at the time. I think besides all the things the experts like to talk about in drinking wine --the balance, the integration, the complexity, the varietal character, etc. -- the most important ingredient is time and place. A couple years ago I was doing a multiple-day shoot in Paso Robles, CA for a winery down there and the owner took the art director and myself out to dinner in town. The dinner for a variety of reasons was turning out to be a peak-life experience and among other bottles of wine, Tony, the art director, ordered a Pinot Noir from the Santa Barbara county wine region. Yummy beyond belief, each sip was like drinking warm, dark delicious fog. I'll never forget that bottle and yet the bottle of Prosecco I shared with my girlfriend the first night in Vernazza, Italy was every bit as good and it only cost a couple Euro. That dinner we bought some bread, cheese and salami at a little market and we sat on our deck looking at the sun going down on the Ligurian Sea. It's all about time and place and the person next to you.
RR: Tell us a little bit more about your photography background.
PK: I went to Brooks Institute of Photography and graduated in 1982. I opened my own place after assisting a food shooter in 1988 and tried to stay inside and shoot product. It seems I've shot everything there is to shoot. I've always been very open to letting the nature of the business take me where it leads. When I opened up I only wanted to shoot tabletop still life things, but I got a client that did the advertising for a computer maker in Silicon Valley and I ended up photographing lots of models on location. So I did that for a few years. I then hooked up with a huge flower nursery and shot their catalog for years and years in and out of the studio. I've done everything from industrial grease for one of the oil companies in the Bay Area to ice cream. From bringing a lion into the studio and having him lunge at me (very scary by the way) to bars of soap (not scary), from riding in a biplane to shoot another biplane pulling a banner (dropping a part from the Hasselblad camera somewhere over the East Bay Hills on that shoot) to renting a block of houses in suburbia and filling it with cars and props from the 1950s.
RR: How long have you been wearing RailRiders, and what do you like best about them?
PK:I haven't done too much travel until recently. Last trip was a jaunt through Ecuador. Pretty much saw the whole thing and traveled it by bus and in the back of pickup trucks. Next trip is going to be a big U. Starting in Porto, Portugal, heading down the coast and swinging around the bottom of Spain and then North to Barcelona. Port, Sherry and flamenco baby! Hearing about insects and malaria in the jungle of Ecuador I saw a Madison River Shirt with Insect Shield at the Marmot store in Berkeley and thought that was the way to go. So I bought one along with the
Equator shirt
and
Eco-Mesh Pants
and wore those exclusively while I was there. Turned out to be not too many bugs but the ventilation and quick drying aspects proved to be worthwhile. My girlfriend and I did some clothes washing in the sink one morning high in Andes and I hung the stuff outside in the morning sun to dry. I don't know, maybe ten minutes later I go out and announce my stuff is dry, she couldn't believe it.
RR: Any final advice to give to amateur photographers?
PK: I get asked this all the time when people meet me. I guess there are two main groups. One who thinks the camera matters and one who think that it's less the camera and more the photographer. I fall into the "it's not what's in your hand but more of what you point it at" group. I'm also not a gear head and although I know my own equipment very well I don't spend any time whatsoever studying up on what's what in the camera world. So I have no advice for the kind of camera to buy. To me it's more important to shoot a lot and to be very critical and detached when you get home and see the output. Try to understand why you like one shot and not the other. Forget that you're the one who shot it and try to see the photograph objectively. I've also been bantering an idea in my head for a while about composition. I'm thinking maybe we shouldn't use that word. Before you raise the camera to the eye you need to know why you're raising the camera to the eye. You need a reason to do it or maybe a better way to put it is that you have something you'd like to state. It could as simple as "I like the complimentary colors of that door against that wall". Or it could as complex and subtle as " I just saw my father take his last breath." Once you have a statement then the rest of the photograph is simple. You include and accentuate elements within the frame that helps flesh out that statement and you exclude or diminish things that don't. Have something to say. Shoot that statement. Later on see if the photograph supports that statement. If the photo doesn't work it's because either the statement wasn't strong enough or you didn't execute the statement well.