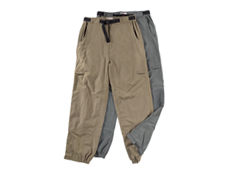 These are some pants!
Michael Delp, Interlochen, MI
I spend all summer prowling rivers and when I'm not doing that I'm writing. These activities require adequate pants. So, I ordered a pair of extreme adventure pants. and spent the week waiting form them imagining myself into some kind of fishing/bushwhacking Bear Grylls would envy. I took them out of the box, threw them in the washer just to break them in a bit and then put them on and went to work. I sense that you can do just about whatever it is you want to do in these pants….whether it's going to a reading, or tossing a Hex fly at midnight into a dark pool. I like the idea that I can be sitting in class, talking about Jim Harrison, knowing that if I wanted to climb out a window to escape, my pants could stand the abrasion and that I could get in my car and drive into town for some French cuisine if necessary wearing the very same pants. I already know these will become my favorite pants. They have that specific weight and density, the toughness to take on the toxicity of the civilized world with great style and complete invulnerability. More later. I'm figuring ways to wear them out or suffer a stroke trying.
---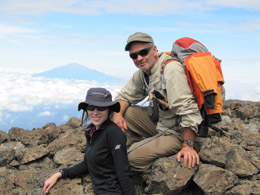 Kilimanjaro
J. Schechter - Ortonville, MI
I've been buying your products for several years. Great stuff! Last month I returned from Tanzania and a successful summit of Mt Kilimanjaro.Two items made the summit with me: an eco-mesh shirt (which is now the proud property of one of my favorite porters) and a pair of x-treme adventure pants. The pants were worn every day on the nine day western approach and preformed superbly. Attached are two pics--one showing the shirt and pants above the clouds on the slopes of Kilimanjaro with Mt Meru in the background (and fellow trekker Kelly) The other showing the pants near the summit as we trek slowly past the glaciers.
---
6 weeks in the Himalayas
David Kitano-Broken Arrow, OK
I just returned from trekking for 6 weeks in the HImalayas. I am 60 years old. I took only 2 pants and 2 shirts for the entire trek. Extreme Adventure pants and the Expedition Shirt. I had read about your adventure clothes and I bought these items and took them on my trek exclusively. I had only tried them on for size and fit before my trek. I had never used your adventure clothing before (I'm sure glad that my wife got your catalog in the mail one day). I must say that they were the best clothes that I have ever worn on an outdoor excursion. I washed each shirt and each pants only once each during the entire 6 weeks. They stood up very very well to everything that they were exposed to. I was even knocked over by a load carrying yak on my way to the Everest Base Camp in Nepal and the Railrider adventure clothing stood up better than I did to that experience. I am a fan of your adventure clothing now and forever.
---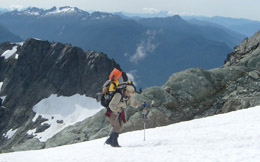 6 of 7 continents with RailRiders
V. M. Drayton, Laporte, IN
So far I have been on 6 of the 7 continents. I have tested more equipment than I care to mention but I have to tell you Rail Riders is the best, period. The attached photo is from the Northern Cascades, Washington state ice/glacier climbing. As you can see I have on your Ecomesh shell and extreme adventure pants. These kept me plenty warm while climbing. They dried so fast even in the cold. My guides even asked about them. Tough? Oh yea. During one fall my crampons shredded my gators but there was just a tiny hole in those extreme pants, which is still there. Those pants have gone onto Mt Kilimanjaro and the Tasmanian/Australian outback and frankly still look new(except for the tiny hole) I have stopped testing shirts and pants. Rail Riders are the only ones that go with me.
---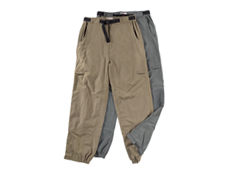 X-Treme Adventure Pants
Glenn Sveum, Albuquerque, NM
"I just wanted to let you guys at RailRiders know how much I love your X-Treme Adventure Pants. I have just placed an order for two more pair, but as for my first pair, I think I found something that these pants had a hard time handling. I had foolishly driven my pickup truck along a roadway marked 'Fresh Oil'. It was snowing and raining, and it made an awful mess of my vehicle. Once I got home I noticed that the truck was coated in road tar which was almost impossible to remove. In my haste to save the paint job on my pickup, I ignored the welfare of my RailRiders pants while washing my truck over and over. Once I came to the conclusion that I could never remove all of the tar from my truck, I gave up further bouts with washing and scrubbing. But then I noticed that the nasty tar had gotten all over my X-Treme Adventure Pants. I was more upset about the pants being ruined than my truck. I frantically took the pants off and washed them five or six times, removing most of the tar stains. The pants are still fully functional. I still wear them hiking all the time out here in the desert. Thanks for making a great product. I'm your customer for life."
---